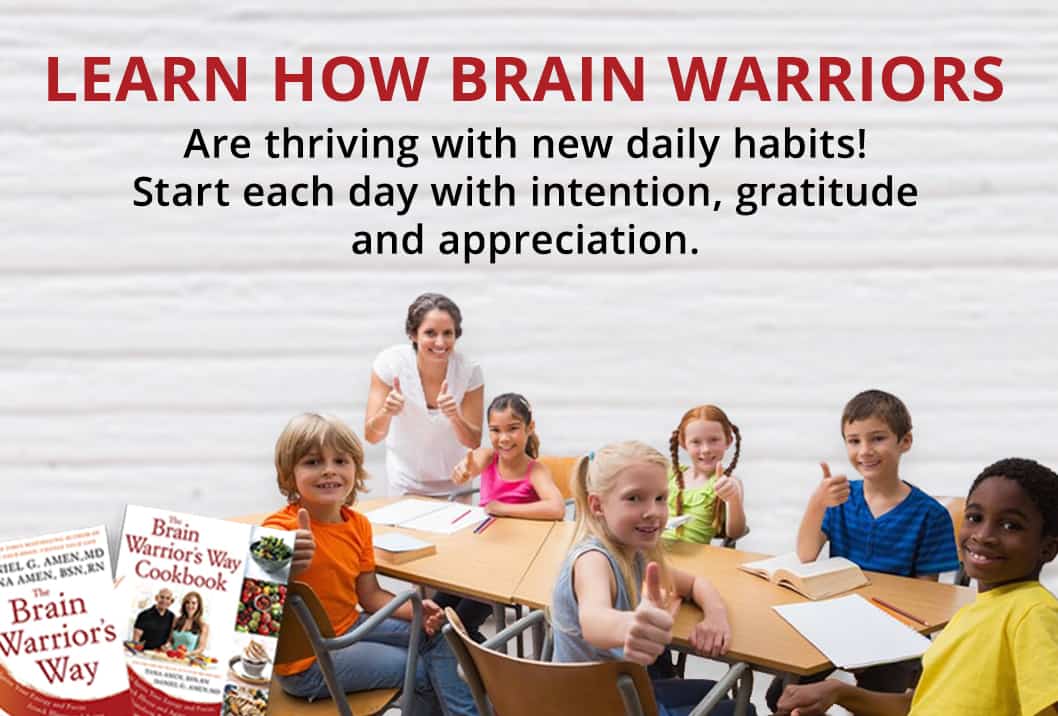 "WITH A LITTLE HELP FROM MY FRIENDS"
Research shows that friends, along with family and colleagues can improve your odds of better health and longevity by 50%. Join thousands of Brain Warriors throughout the world in their journey to improve memory, focus, energy, weight and mood. Play your part in this community by sharing your success which will encourage other Brain Warriors who may be struggling in their journey. As Brain Warriors we each have to fight every day to maintain our health, but you can become victorious!
Join Our Brain Warrior Tribe!
Get access to Personal Blog Topics, Health Tips, Recipes, and Invitations to Exclusive Events!
Plus you'll receive a special gift!
Going back to work and feeling great, and able to have the stamina to work a nine hour day times four and five days a week. Just able to get back into meeting people and having a purpose is freeing to share and not feel guilty about being different and have people give you that… Read more "Going back to work and feeling great"
SHARE YOUR STORY. HELP OTHER BRAIN WARRIORS!
Lost 27 lbs
Following the Brain Warrior's Way and have lost 27 lbs. I haven't been this weight in 13 years. Most of my brain fog is gone. I have to exercise more than 3 days a week; More like everyday, even multiple times a day. I practice autophagy thru fasting and don't eat after 6:00pm. I know that practicing the discipline of the BWW has helped me focus, think better, definitely plan better and know the reasons why this discipline works for me. I have fallen and picked myself up. Most importantly I feel better as a person, a partner, mom and grandma. What a change from 5 1/2 months ago.
A much more enjoyable trip!
I drove up to Seattle from LA this past week and flew home. One of my goals was to show grace to other drivers especially when I felt frustrated. In the past I have been overly concerned about "I'm right , what they did was wrong". I would have a strong tendency to worry about getting cut off, someone flying up the freeway on the right and butting in etc. This time I expressed my feelings out loud and then quickly moved into a forgiveness mindset. What a much more enjoyable trip!
My success
My success it seem this week was making mends with a celebrate recovery friend that i was afraid we lose contact forever. WE probably have not completed mended our argument we had a week or so ago but this past Friday we talked texting and i felt like it was good and i am happy we are more in the OK with our relationship.
Soooooo grateful
Learning new recipes from Tana's Healing ADD through food cookbook. LOVE the cookbook and I guess its not really a challenge but learning new recipes takes some time to plan but excited to learn some new delicious and healthy recipes, Soooooo grateful for the book. THANK YOU very much!!! 🙂
My wife and I enjoy going out to eat
Got a gift card to the Olive Garden. My wife and I chose the soup and salad. We stayed away from the bread sticks (no interest), but I could tell the soup and salad dressing was probably not the best thing for us. My wife and I enjoy going out to eat… but I am finding that lots of restaurants we used to enjoy are now tasting more like "McDonald's" fast food! The best part is it's making me want to stay away from them…. so I guess that's a good thing.
Turning pain into purpose
I retired about five years ago and have been very busy helping family members. This area of my life has slowed down and I now have free time. I am trying to figure out what to do with the rest of my life (I am 60 years old). Your idea of turning pain into purpose appeals to me. I am finally to the point, mentally and physically, where I can do the work to figure this out. I have several food intolerances (dairy, soy, gluten, nightshades) and, using a combination of your eating program and avoiding these foods, I have lost weight, feel more focused, and have more energy and less pain.
Began co-leading a BWW group
Began co-leading a BWW group and I hope to be able to use what I've learned in this course to help others.
Managed to resist
Managed to resist all the bread, pastries and strudels in Austria!!! It was hard!!!!
Thank you so much for offering this program
I started out weighing between 210-215 lbs. This morning I was at 176 lbs, and plan to be at 175 soon! I did not do this program just to loose weight, but to improve my health. For years I dreamed of getting down to 175…. and I find it amazing that I should reach this goal by the time I get my black belt. I was completely fine if it took me a lot longer… as I know my real goal is long term health. I am looking forward to working on improving and becoming a better long term warrior! Thank you so much for offering this program.
Getting more things done
I'm getting more things done with less tiredness. – Listening more & enjoying life even though there are stressful things happening. – Encouraging friends & family to eat healthy & leave the sugar out.
Happier and healthier
We've been working on getting his daily schedule set up for back to school and we've added your idea to start the day in a positive way with focus, appreciation and gratitude. We also did a little craft project to make a gratitude tree. He put "leaves" on the branches which were little tags with things and people who he appreciates and is grateful for. It's right by his bed so he can see it every morning and he can add to it. I feel so great that I can share things to help him be happier and healthier.
Getting more things done
I'm getting more things done with less tiredness. – Listening more & enjoying life even though there are stressful things happening. – Encouraging friends & family to eat healthy & leave the sugar out.
A bunch of social things
I did a bunch of social things this past weekend that I normally would not have done, and my capacity to be around people for extended amounts of time has increased. Having a teen who just got licensed to drive meant having family discussions about safety, good nutrition before driving, expectations and setting limits--I struggle with follow through). I've been able to communicate that my anxiety and worry is higher and what I need from my kids due to my heightened sense of hyper vigilance.
Establishing a habit
I continue to insist on dishes adapted to my needs when in restaurant. I stood up to my friend's pressure to give in from time to time. I bought weights and elastic exercise band to exercise at home and add to my daily walking, I am establishing a habit to be ready when the snow keeps me in.
Walked away from several situations
Keeping on… keeping on. Walked away from several situations where I was offered really unhealthy choices to eat. People looked at me like I had two heads. It drives me crazy when they say… "you have worked hard, you can treat yourself". One voice is telling me.. they are right, I have worked hard and it's not going to kill me. My warrior voice is speaking louder… yes, it's going to kill you… it's poison! Doing better this week on exercise.. now that I have me exercise partner back to hold me accountable.
A wonderful gift!
I travelled out of town, and got sick and was able to manage food and exercise (and drinking water) without a hitch! A little over a month ago I was reluctant to go on this trip because I was worried I would get anxious and feel alone and not be able to manage well. I went and had a great time! My energy and ability to be around people exceeded my expectations! I didn't have any anxiety, and when I got sick, I was able to intuitively take care of myself. I was with other women who eat like I do and take good care of themselves, so it was like being with my tribe! It was a wonderful gift!
I was glad I saw the label!
I chose to substitute a recipe after reading that high fructose corn syrup was in my mayo. Instead I did balsamic vinegar and olive oil for a dressing to go over my broccoli and cauliflower salad. I was glad I saw the label! So I could do something instead!
Wrecked havoc on my routine
I had unexpected out-of-town visitors for 11 days and wrecked havoc on my routine. I managed to not completely blow my diet and workouts with all the sightseeing and driving I was doing. YAY!! I had to cook differently than I usually do, so I tried to stick to protein shakes and smoothies for my meals while my guests ate all the stuff they shouldn't (not my fault!!)