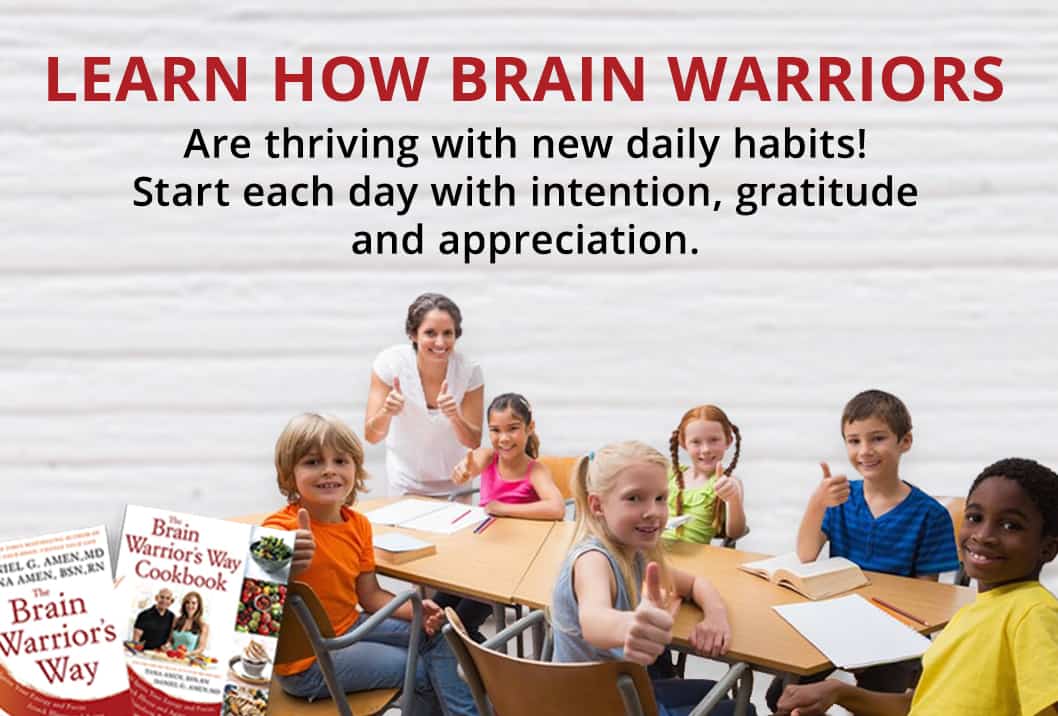 "WITH A LITTLE HELP FROM MY FRIENDS"
Research shows that friends, along with family and colleagues can improve your odds of better health and longevity by 50%. Join thousands of Brain Warriors throughout the world in their journey to improve memory, focus, energy, weight and mood. Play your part in this community by sharing your success which will encourage other Brain Warriors who may be struggling in their journey. As Brain Warriors we each have to fight every day to maintain our health, but you can become victorious!
Join Our Brain Warrior Tribe!
Get access to Personal Blog Topics, Health Tips, Recipes, and Invitations to Exclusive Events!
Plus you'll receive a special gift!
Have loved every one of the sessions, learned heaps and am able to share so many of the things I have with my workmates and friends, We are changing the world one Brain at a time.
SHARE YOUR STORY. HELP OTHER BRAIN WARRIORS!
I LOVE THIS CLASS!
I LOVE THIS CLASS! You cannot put a price tag on what you are teaching us. Thank you, thank you!
A donut has as much oil/grease as a small container of Vaseline
I have been successfully staying on the program. Still waiting for the back to feel better. Getting radiofrequency ablation in about 2 weeks. Can't wait to start exercising again. I notice that when I stay on the program, I feel great. When I slip and eat junk food or food that isn't good for me, I feel LOUSY and get really depressed. I'm meeting people who eat like I do which is great. I've managed to avoid the donuts at work. I was a Weight Watcher leader years ago and found an article that a donut has as much oil/grease as a small container of Vaseline. Every time I think of that, I can't eat the donut.
High five moment
I just took a trip to Key West with a friend and I overheard a couple behind me. She was talking about killing ants and my ears perked up, she then explained to the Man with her that ANTS are automatic negative thoughts. I turned around and said, Brain Warrior? Yes! High five moment. It was really exciting to eat right while on vacation. Minimal drinking and lots of exercise made for a fantastic trip! Fresh fish and veggies all week, it was perfect and I came home feeling terrific.
Things I am grateful for
This past week after gaining two pounds from eating the wrong portions the week before, I have followed the portion sizes and kept with the program much more carefully. I continue to do a little more moving around and exercising weekly. Have even begun going to the gym twice a week. This week I lost two pounds, so I am back where I was two weeks ago. The biggest things that make a difference in my days are the naming things I am grateful for and the prayer/meditation time. Days are much more calm because of those special times.
Made me realize how important veggies are
I ate more vegetables & my blood sugar went from about 107 to 94. Made me realize how important veggies are.
Different brain types
Thank you SO MUCH for explaining the different brain types and how to support brain health for each one! Very helpful!
This program has been life SAVING for us
I am beginning to look at new things in my life that I need to work on. I am far from my goal weight, but this is the first time in my 56 years that dealing with my weight issue is not constantly on my mind, hovering over my head like ravenous vulture, screeching at me about what a failure I am. Having regained control over the food, it no longer bosses me around. I am far from a failure. I am a capable warrior. This program has been life changing for me, my husband and both of my parents. Actually, let me rephrase that. This program has been life SAVING for us.
Loving your lectures
I've been loving your lectures and for the first time ever have been able to kill the cravings for sweets. I've been spreading the word about your lectures.
Think twice
Bad food is starting to make me really sick. Not thrilled with the sick feeling but it is helping me think twice before giving in to the impulse to eat something bad.
Get rid of the ants!
Brain Warriors Way has taught us so much and has definitely changed our lives for the better. One of the greatest lessons learned is, to get rid of the ants! I am so much more aware of them and I am no longer going to let them destroy my day, my mood or my life!
Very much encouraged
I was very proud of my resistance to food that do not fit in my new diet. Every Sunday 15 to 20 of my seniors neighbors gather in a restaurant for a late breakfast, I discussed with the waitress that I could not have potatoes, toast and coffee, she brought my eggs with vegetables, On occasion this one restaurant will bring us complimentary cake I resisted the temptation and passed mine on to someone with a sweet tooth, I felt slightly guilty because I knew it was not best for his health but he accepted the risks meanwhile applauding my resolve. The scale shows it has an effect so I am very much encouraged.
Wide awake, full of energy
I went to an all day genealogy workshop with some other ladies from our local genealogy club. We had to bring our own lunch and there was no place to refrigerate what we brought. The others brought a sandwich on white bread. Since I don't eat a lot of meat, I certainly did not want meat that had been sitting out for 4 hours so I chose to bring a coconut wrap, put organic almond butter on it and added organic banana slices to it. It was so good I almost inhaled it and i was stuffed eating just one. When we left they were all talking how they were starting to fall asleep during the last of the workshop. I on the other hand was wide awake, full of energy and didn't miss a word of the workshop. I am on my way to being a warrior after all!
We are both improving
I am listening more, thinking and pondering. It is easier to stay calm and relaxed, not tempted to mirror my teen son when he has an over reaction nor feeling temped to calm him. We are both improving. My husband is eating healthier food and returning to his exercise program. ; -) I am thankful for both of you and this program!
Very proud of myself
I'm still here and moving along through the class! Many times I begin things and then do not see them through so I am very proud of myself that I've kept up. I look forward to the classes!
Focusing on my essence/purpose
Focusing on my essence/purpose. Realizing that the little things I do, to help several women (manage money, focus on positives, more discerning in their day to day dealings and relationships, foods they eat), make this small corner of my world a better place for them, and that in turn blesses me.
Going back to work and feeling great
Going back to work and feeling great, and able to have the stamina to work a nine hour day times four and five days a week. Just able to get back into meeting people and having a purpose is freeing to share and not feel guilty about being different and have people give you that look. "that's great for you but I am not into that health stuff," well when they need to be in that healthy stuff may be too late and they will be sick and have to.
My healthy eating plan
I was able to get back to my healthy eating plan this past week. I took Tana's advice, and did not "beat myself up" for getting off from my food plan last week. I forgave myself, and learned from the experience. I know that the food tasted good, but it did not make me feel good. I felt bloated and swollen. After several months of not feeling that way due to healthy eating, it was not a pleasant experience. Although I continued to feel ill this past week, I was able to do some walking and stretching. Not too much, but some. I love the lessons in regard to parts of the brain and how they relate to health. I first became interested in this series in hopes of learning something that might assist me with daily migraines.
Reviewed all my recent blood work
Reviewed all my recent blood work up with my doctor. She said my blood was so healthy. For the first time in a long time my blood sugar was a 93. This is such great news to me because I worry about all the fruit I put in my smoothies!! Then I'll eat a piece of fruit in lieu of something unhealthy!!!! So stoked right now!!