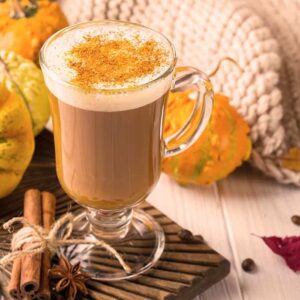 Nutrition Facts
Pumpkin Spice-Up Cappuccino
Amount per Serving
% Daily Value*
* Percent Daily Values are based on a 2000 calorie diet.
Ingredients:
1

pot

Organic 1/2 caffeinated coffee

use 1/2 regular coffee and 1/2 decaffeinated coffee for brewing

2

cups

plain almond milk

preferably unsweetened

8

drops

pumpkin flavored liquid stevia

(Sweet Leaf brand is my favorite)

1

teaspoon

pumpkin pie spice

1

tablespoon

coconut oil

1-2

teaspoons

ghee

(optional)

cinnamon

(optional)
Directions:
Using a coffeemaker of your choice, brew a pot of half-caffeinated coffee, using equal parts caffeinated and decaffeinated coffee. If you prefer, you may use only decaffeinated coffee.

While coffee is brewing, heat 2 cups almond milk on stove top or in microwave. If heating on stove top, watch closely; almond milk boils over quickly. If heating in the microwave, place in microwave-safe cup and heat for 2 to 3 minutes.

Pour 2 cups coffee, warm milk, and all other ingredients in a blender and cover. Blend for 10 to 15 seconds, until froth begins to form. Divide between two large mugs and dust each mug with cinnamon as desired.
Notes:
This is Daniel's favorite way to start the morning.
Adding coconut oil and ghee provides short- and medium-chain fatty acids to support gut health. It also makes the cappuccino creamy and creates some amazing foam. However, if you're calorie conscious, simply eliminate the oils and you'll reduce the calories by more than half.
If you're wanting a whipped cream topping, use my recipe here.
___________________________
If you are looking for a clean and fast-acting energy source for peak brain and body performance, you need to try our Brain MCT energy supplement. This is a liquid that can also assist with maintaining a stable weight. By enhancing satiety, which restrains appetite and promotes fat burning, MCT can be helpful for curbing unhealthy eating and stabilizing body weight.
You can find this product

here

.
Don't forget to use the code TANA21 for 21% off your first purchase from BrainMD (make sure you have an account and are signed in to use this offer).