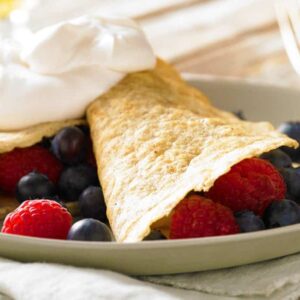 Nutrition Facts
Omni-Style Crepes
Amount per Serving
% Daily Value*
* Percent Daily Values are based on a 2000 calorie diet.
Ingredients:
TOPPING INGREDIENTS:
1

cup

fresh organic strawberries

cleaned and stems removed

1/2

cup

full-fat coconut milk from can

(optional) - refrigerate overnight then skim cream from top after refrigerated

2

tablespoons

erythritol or xylitol

(optional)

2

teaspoons

ground cinnamon

(optional)

1

cup

fresh organic blueberries

cleaned

2

tablespoons

unsweetened carob chips
BATTER INGREDIENTS:
1/2

cup

almond meal

or coconut flour

1/2

cup

all-purpose gluten-free flour

2

tablespoons

flaxseed meal

2

tablespoons

erythritol or xylitol

1

teaspoon

baking powder

5

egg whites

1

cup

plain unsweetened almond milk or rice milk

1

teaspoon

pure vanilla extract
Directions:
Topping Preparation:
Put strawberries in a high-powered blender. If desired, put coconut cream in blender with strawberries. Puree until the strawberries become a smooth sauce.

Pour sauce into a squeeze bottle (cake decorator), or just put in a dish, cover, and set aside.

If desired, mix erythritol (or xylitol) and cinnamon to sprinkle later.
Crepe Preparation:
In a large mixing bowl, combine the dry ingredients first: the almond meal, flour, flaxseed meal, erythritol, and baking powder.

Add the egg whites, almond milk, and vanilla. Using a handheld electric mixer at medium speed or a whisk, beat until batter is smooth. Do not allow to rest for long, as the flax tends to thicken the batter over time. For best results, the batter should be thin.

Use a non-teflon, nonstick crepe pan or skillet over medium heat. Pour a little less than ¼ cup of the batter into the pan (just enough to cover the pan with a thin layer), tilting the pan with a circular motion so that the batter coats the pan evenly. Cook the pancake for about 1 minute, until the bottom is golden brown. Loosen with a spatula, turn over, and cook the other side for about 30 seconds. It's all right to use your hand to help turn it. Remove the crepe and set aside on a plate, then repeat with the remaining batter.

Place crepe on a plate for serving. Put a line of blueberries down the center. You may choose to put a dollop of the strawberry sauce down the center as well, reserving enough of the sauce to garnish the top later. Roll the crepe. Repeat with all the remaining crepes.

When the crepes are assembled, place them back in the pan, four or five at a time, for about 30 seconds/side. When thoroughly warmed, remove and place two to a plate, decorate the top of each plate with a generous serving of the strawberry sauce. Squeeze bottles lend themselves to great designs. Otherwise, spoon about a tablespoon over each crepe.

If desired, sprinkle 4 or 5 carob chips across the top of each crepe. Kids love this! It gives the illusion of decadence.

Sprinkle a generous amount of cinnamon/erythritol mixture across the entire plate. Serve quickly while crepes are warm.
Notes:
Crepes made with almond meal and gluten-free flour are heavier and a little trickier to turn. If you have trouble, try using a little nonstick spray on your skillet. These crepes are worth the effort. They taste great and are much healthier! Stack the crepes on a plate as you finish them. As you get better at making them, you may choose to make two at a time! You may also use parchment paper between them to prevent sticking and to keep them warm if you choose, or you can quickly reheat them before serving (as restaurants do).
___________________________
If you are feeling that you need a little support with making better choices when craving strikes, you should try our Craving Control supplements. Anyone who has ever tried to make better choices knows all too well how cravings can sabotage the best intentions. Craving Control contains all-natural ingredients that help to calm the craving centers in our brain, balance blood sugar and promotes a positive mood. You can find these here.
Don't forget to use the code TANA21 for 21% off your first purchase from BrainMD (make sure you have an account and are signed in to use this offer).