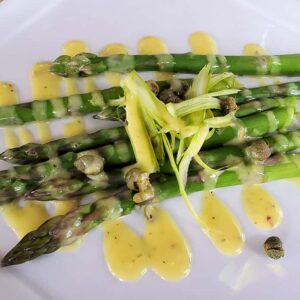 Nutrition Facts
Chilled Asparagus Salad
Amount per Serving
% Daily Value*
* Percent Daily Values are based on a 2000 calorie diet.
Ingredients:
1

bunch

asparagus

(12-18 pieces)

2

tablespoons

avocado oil

2

tablespoons

lemon juice

2

tablespoons

mustard

3

tablespoons

capers
Directions:
Rinse the asparagus and immerse in a bath of ice water.

Save 4 stalks for garnish.

Blanch the remaining stalks in boiling water for 2-3 minutes, just enough to notice the color change.

Remove quickly and immerse again in a bath of ice water.

When completely cool, towel dry and refrigerate before serving.

In a small bowl whisk together the avocado oil, lemon juice and mustard until a creamy dressing is formed. Chill until ready to serve.

When ready to enjoy first take the 4 remaining stalks of asparagus and shave the outside with a vegetable peeler to create a fresh garish to top the salad.

Layer 4-5 pieces of the chilled asparagus on a plate, then top with the shaved raw asparagus, capers and dressing.

Enjoy fresh or pack to take for a healthy snack!
Notes:
Chef Tip: Shaved asparagus is a nice topping on any salad and can be used raw in this way to add additional flavor and nutrition to any vegetable side dish.
___________________________
Did you know that most people don't get the proper amount of Vitamin D3? Especially in the winter, this is a vitamin that the body readily converts to a hormone that is important for the brain, heart and circulation, immunity, bone, muscle, lung, joints, kidneys, and overall vitality. I take this every single day!
Click

here

to read more about our BrainMD Vitamin D3 5000 and add it to your cart today!
Don't forget to use the code TANA21 for 21% off your first purchase from BrainMD (make sure you have an account and are signed in to use this offer).