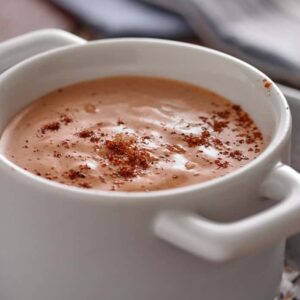 Nutrition Facts
Zesty Aioli Sauce
Amount per Serving
% Daily Value*
* Percent Daily Values are based on a 2000 calorie diet.
Ingredients:
1/4

cup

Veganaise®

1/4

cup

sugar-free ketchup

(Nature's Hollow brand)

1/4

teaspoon

onion powder

1/4

teaspoon

garlic powder

1/4

teaspoon

sea salt

1/4-1/2

teaspoon

chili powder

(I prefer ancho chili powder)
Directions:
Whisk all ingredients together in small bowl until smooth and creamy.

Divide mixture evenly into four small sauce cups or store in an airtight container and refrigerate for future use. Sauce will last about seven to ten days.
Notes:
Suggestion: Serve with Crafty Coconut Shrimp.
___________________________
If you are looking for a clean and fast-acting energy source for peak brain and body performance, you need to try our Brain MCT energy supplement. This is a liquid that can also assist with maintaining a stable weight. By enhancing satiety, which restrains appetite and promotes fat burning, MCT can be helpful for curbing unhealthy eating and stabilizing body weight.
You can find this product

here

.
Don't forget to use the code TANA21 for 21% off your first purchase from BrainMD (make sure you have an account and are signed in to use this offer).