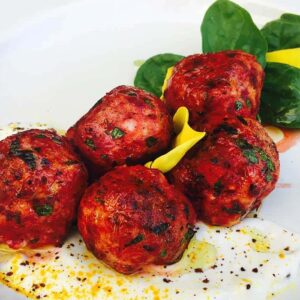 Nutrition Facts
Turkey Beet Meatballs
Amount per Serving
% Daily Value*
* Percent Daily Values are based on a 2000 calorie diet.
Ingredients:
2

tablespoons

avocado oil

2

lbs

dark ground turkey

1/2

large red beet

(about 1 cup finely grated)

1

large sweet onion

(about 1 cup finely grated)

8

cloves garlic

(minced)

1

tablespoon

ginger

(peeled fresh)

1/2

cup

parsley

(chopped)

1

tablespoon

turmeric

1

tablespoon

smoked paprika

1

teaspoon

ground coriander

1

teaspoon

salt

1/2

teaspoon

ground black pepper
Directions:
Set oven to 375F (the convection roast setting will help create a browning of the outside of the meatball but isn't necessary if you don't have convection)

Cut the half beet and sweet onion into large chunks.

In a food processor, blend the beet, onion, and garlic, and ginger until a fine mealy consistency.

In a medium to large bowl, mix the turkey meat, the beet mixture, chopped parsley, turmeric, smoked paprika, and coriander, salt and pepper.

Line a rimmed cookie sheet with parchment paper and lightly coat with avocado oil.

Ideally using a 1 ounce portion scoop, portion into about 55 meatballs. If you don't have a portion scoop, use a large tablespoon and form a round ball with your hands. Portion into rows on the lightly greased, parchment lined cookie sheet.

Roast in the oven 15+ minutes until fully cooked inside and lightly browned.
Notes:
Some Varieties:
The mixture can be used to make burgers as well (makes about 11 4oz patties)
This mixture is loaded with brain boosting ingredients ... in addition to the ginger, turmeric, paprika and coriander, add a dash of cinnamon, cayenne or jalapeno for a little kick.
Alternatively, swap out those spices for rosemary, sage, fennel, and/or oregano for a completely different flavor profile while still enhancing your thinker!
Fold in minced greens like swiss chard or kale.
Throw a few cauliflower florets, a handful of cut cabbage, or a handful of mushrooms into the food processor along with the beets mixture.
___________________________
Beets have essential nutrients including Vitamin C.  If you are looking for more Vitamin C, BrainMD has an incredible liquid supplement called "Neuro-C Vitamin C". I put this in my shake every single morning without fail. This product provides major antioxidant defense, vitamin C is crucial for circulation, immunity, skin quality, peak mental performance, and overall well-being.
You can find more info about this supplement here.
Don't forget to use the code TANA21 for 21% off your first purchase from BrainMD (make sure you have an account and are signed in to use this offer).