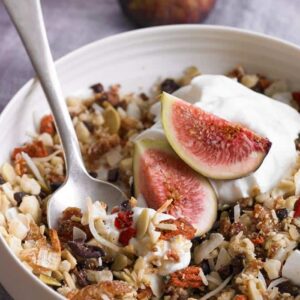 Nutrition Facts
Sunrise Grainless Granola
Amount per Serving
% Daily Value*
* Percent Daily Values are based on a 2000 calorie diet.
Ingredients:
coconut oil non-stick cooking spray

1/2

cup

almonds

shaved

1/2

cup

cashews

chopped

1/2

cup

walnut halves

1/2

cup

pecan halves

1/2

cup

macadamia nuts

chopped

1/2

cup

pumpkin or sunflower seeds

1/2

cup

shredded coconut

unsweetened

1/4

cup

goji berries or dates

chopped

1

egg white

2

teaspoons

water

1

tablespoon

maple syrup

1/2

teaspoon

vanilla extract

(optional)

1/2

teaspoon

cinnamon or nutmeg

(optional)

1/2

teaspoon

sea salt

(optional)

3

cups

almond, coconut or hemp milk

¼ cup per serving

3

cups

plain coconut or goat milk, or yoghurt

¼ cup per serving
Directions:
Preparing Nuts & Seeds:
If you really want the most nutritional value from nuts, try soaking them prior to preparing granola. This will increase the preparation time significantly, so plan in advance. Soaking nuts and seeds initiates sprouting. In addition to making them easier to digest, sprouting improves the absorption of protein and vitamins in nuts and seeds. 

To soak the nuts and seeds, place them in a large bowl and add cold water to cover. Place in the refrigerator for 7-24 hours. Remove from water without rinsing in order to preserve nutritional value.

Place soaked nuts and seeds in a dehydrator set at 140 degrees F for 12 hours, or placed in conventional oven set at 170 degrees F for 5-6 hours. Adjust time as necessary until nuts and seeds are dry and crisp but not burnt.

Once the nuts and seeds are dehydrated continue with the steps below.
Making The Granola:
Preheat oven to 200 degrees F and spray a large baking sheet with coconut oil nonstick cooking spray.

Add nuts, seeds, coconut, and goji berries or dates to a food processor and pulse a few times until coarsely chopped to the consistency of granola (be careful not to over-process). Depending on the size of your processor, you may have to do this in two steps. Remove the mixture from processor and put in a large bowl.

In a small bowl, whisk egg white, water and maple syrup. Add in vanilla and spices as desired. Mix well. Slowly drizzle egg mixture over nut and seed blend. Blend well with clean hands, covering granola mixture with a light coat of the liquid.

Spread mixture evenly over a large baking sheet and bake for 45- 60 minutes or until mixture is dry and forms small clusters. Remove from heat and allow to cool prior to serving.

Place ¼ cup granola in each bowl. Add ¼ cup almond, coconut or hemp milk into each bowl of granola.

Top each bowl with ¼ cup yogurt of your choice if desired.

Place remaining granola in an airtight container. Be sure to freeze leftover granola within several days.
Notes:
Making granola takes an investment of time, but it's a very versatile food for breakfast, snacks and dessert. When making granola I usually double or triple the recipe and freeze leftovers. When I'm in a hurry I simply combine the raw nuts and seeds with almond milk and skip the baking process.
___________________________
Click 

here

 to add  "Brain Curcumin" supplements to your Brain MD cart.
These supplements provide the three major curcumins as the LONGVIDA® preparation, which is very well absorbed. These help fight physical fatigue and help maintain healthy mood and cognitive functioning, while under mental strain. These are perfect to go alongside a healthy breakfast like this Grainless Granola.
Don't forget to use the code TANA21 for 21% off your first purchase from BrainMD (make sure you have an account and are signed in to use this offer).