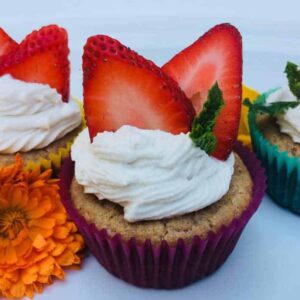 Nutrition Facts
Strawberry Cupcakes
Amount per Serving
% Daily Value*
* Percent Daily Values are based on a 2000 calorie diet.
Ingredients:
3

eggs

1/2

cup

coconut milk - unsweetened

1

heaping cup

strawberries

organic, no stems

1-2

teaspoons

vanilla extract

1-1 1/2

teaspoons

monk fruit powder

(pure, not a blend - or use stevia)

2 1/2

cups

almond flour

2

teaspoons

baking powder

1/2

teaspoon

salt

1/4

cup

coconut oil

(melted)
Directions:
Preheat oven to 350'.

Line a muffin tin with muffin/cupcake papers.

In a medium to large bowl, crack the eggs.

In a blender, combine the coconut milk and strawberries. Blend until smooth (a little chunkiness is ok too!). Pour into the bowl of eggs and whisk together.

Add the vanilla, monk fruit, almond flour, baking powder, and salt. Whisk it all together. Finally, add in the melted coconut oil and whisk.

Divide the batter evenly into the muffin tin. Bake about 30-35 minutes then check. They are best a little golden on top and done when a toothpick inserted comes out clean.

Allow cupcakes to cool, or enjoy slightly warm! Decorate with Coconut Milk Whipped Cream Frosting. Yum!
Notes:
Decorate with Coconut Milk Whipped Cream Frosting. Monk fruit powder is sold in a few different forms, generally combined with ingredients like dextrose which is not good for us (a corn derivative). It can be found combined with erythritol which may be ok, but can be hard on a sensitive tummy. Pure monk fruit is VERY sweet on the taste buds, so a little goes a long way. Start with 1 tsp and add more as needed! Variations: Substitute strawberries with your favorite fruit like blueberries, peaches, raspberries, or cherries. Always use organic, of course!
___________________________
If you are feeling like you need something extra to fight anxiety and feel more calm and happy, you need to check out our Gaba health calming support supplements. I take this almost everyday and it helps me so much.
You can find this

here

.
Don't forget to use the code TANA21 for 21% off your first purchase from BrainMD (make sure you have an account and are signed in to use this offer).