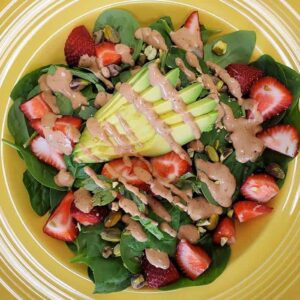 Nutrition Facts
Strawberry Balsamic Dressing
Amount per Serving
% Daily Value*
* Percent Daily Values are based on a 2000 calorie diet.
Yield:
12
(serving size 2 tablespoons dressing)
Ingredients:
Strawberry Balsamic Dressing
1

cup

fresh strawberries

1/2

cup

olive oil

(or avocado oil)

1/4

cup

balsamic vinegar

1

clove

garlic

1

tablespoon

dried Italian herb mix

1

teaspoon

coconut nectar

(or 2 drops stevia)

1/4

teaspoon

sea salt
Strawberry Fields Spinach Salad (optional)
3

cups

fresh spinach

1/2

cup

avocado

1/2

cup

strawberries

diced

4

tablespoons

pistachios

chopped

1/4

cup

fresh Strawberry Balsamic Dressing
Directions:
Dressing
Blend all ingredients and enjoy fresh for up to 10 days.

Store in the refrigerator for best results.

Once you've created this delicious dressing I'm sure you'll find many ways to enjoy it, but here is my chef's favorite fresh salad combination:
Strawberry Fields Spinach Salad (optional)
This salad packs very well for the road. If you coat your avocado in a small amount of lemon juice it will hold its beautiful color and you can easily enjoy this salad post work-out or at the office.

Salad Nutrition: serves 1, calories 361.7, total fat 30.4g saturated fat 4g, cholesterol 0mg, sodium 51.3mg, carbs 20.4g, fiber 8.9g, sugar 7.5g, protein 8.2g.
Notes:
Strawberries are nature's perfect flavor boost when in season and they're loaded with antioxidants to strengthen your immune system. Even your dressing can boost your health and wellness if done right. All the ingredients combined in this recipe create a savory dressing that is also full of fresh nutrients.
___________________________
Click 

here

to add "Brain Curcumin" supplements to your Brain MD cart.
These supplements provide the three major curcumins as the LONGVIDA® preparation, which is very well absorbed. These help fight physical fatigue and help maintain healthy mood and cognitive functioning, while under mental strain.
Don't forget to use the code TANA21 for 21% off your first purchase from BrainMD (make sure you have an account and are signed in to use this offer).