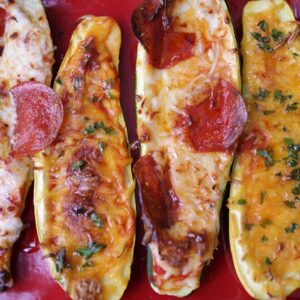 Nutrition Facts
Stay Sharp Pizza Snacks — Two Ways
Amount per Serving
% Daily Value*
* Percent Daily Values are based on a 2000 calorie diet.
Ingredients:
SAUCE:
1

large

jar organic marinara sauce or pizza sauce

(I prefer garlic and herb flavor and be sure to get sugar free.)
SAUCE INGREDIENTS IF MAKING YOUR OWN:
2

tablespoon

olive oil

1/4

cup

onion, peeled and diced

2

garlic cloves

minced

2

tablespoon

parsley

finely chopped

1/2

cup

tomatoes

sugar-free diced

1/4

cup

tomato sauce

sugar-free

1/4

cup

tomato paste

1/4

teaspoon

dried oregano

(or 1/4 tablespoon fresh)

1/4

teaspoon

dried basil

(or 1/4 tablespoon fresh)

sea salt

to taste
ZUCCHINI PIZZA BASE INGREDIENT:
2

large zucchini

cut in half horizontally
PIZZA BASE OPTIONAL INGREDIENT:
Gluten-free bread or pizza dough

(Whole Foods makes a great pre-made gluten-free dough)
OPTIONAL TOPPINGS:
Daiya dairy-free cheese

Sun-dried tomatoes

ground turkey or beef

uncured pepperoni

lunch meat without nitrates

olives

onions

pineapple

ham
Directions:
Heat oil in large pot over medium heat. Add onion and sauté for about 3 minutes.

Add garlic and sauté for another 2 minutes.

Stir in remaining ingredients. Reduce heat to low and simmer for 20 to 30 minutes.

Preheat oven or toaster oven to 400°F. (I like the toaster oven for these simple snacks.)

Cut zucchinis in half length-wise if using this as your base.

If using Gluten-free bread or pizza dough - roll out dough and lightly toast the bread first to prevent it from getting too soggy.

Spread a thin layer of sauce on base of your choice (zucchini, gluten-free bread or pizza crust).

Add dairy-free cheese if desired and other toppings of your choice.

Place pizza snacks on parchment-lined cookie sheet and bake for about 15 to 20 minutes (bread may take less time). Zucchini takes longer than the bread, so make sure the zucchini is soft.

If serving to children, allow the sauce to cool a bit before serving.
Notes:
This snack is a great alternative to high carb snacks before homework. Since pizza is a general favorite, it's a great "gateway" into getting kids to eat healthy. There are two versions of this snack. One version is made with zucchini or squash, and most kids love it! The second version may be made with gluten-free bread or pre-made gluten-free pizza dough that can be kept in the freezer. While I don't use this often, I do find it to be a quick and fun after school snack for play dates when I don't want to be the "weird" mom that is always serving "green" stuff. It can be a great intro to healthy food for some of the neighborhood kids.
___________________________
Did you know that we have supplements for kids? Essential vitamins and minerals for your little ones to promote healthy growth, activity, learning, and behavior. Formulated by my husband, Daniel Amen, MD in the form of kid-friendly chewable tablets.
You can find those

here

.
Don't forget to use the code TANA21 for 21% off your first purchase from BrainMD (make sure you have an account and are signed in to use this offer).