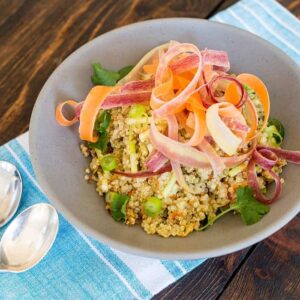 Nutrition Facts
Smart Brain Quinoa Bowls
Amount per Serving
% Daily Value*
* Percent Daily Values are based on a 2000 calorie diet.
Yield:
6
(entree sized bowls)
Ingredients:
Bowl
9

cups

cooked quinoa

16

oz

artichoke hearts

16

oz

pitted olives

1

cup

tomato

diced

1

yellow bell pepper

diced

1

cup

parsley

chopped

1

avocado
Sauce - optional
2

tablespoons

avocado oil

(optional)

2

tablespoons

lemon juice

(optional)

1

tablespoon

mustard

(optional)
Directions:
Bowl
Cook the quinoa with a preferred spice blend and refrigerate until use. Add some fresh parsley to the mix before saving for even more flavor.

Mix the veggie topping by combining all remaining ingredients in a mid sized bowl. Refrigerate until ready to enjoy.

Build your bowl by layering first 2 cups of quinoa, followed up 1 1/4 cup vegetable topping.

You can also easily add other types of proteins and fresh herbs to this basic combination of foods.

Make tasty carrot curls using a vegetable peeler and fresh carrots. Simply peel the first layer of carrot skin and then repeat the peeling action around the carrot to create the curl. This is an enjoyable way to add fresh carrots to any meal that is also light and easy to add on!

You may wish to add a fresh sauce to your bowl or enjoy the bowl as is with the fresh flavors of the vegetables.

This dish is also nice with fresh hummus or salsa on top!
Sauce
Whisk together a mineral rich sauce for this fresh bowl in seconds by combining avocado oil, lemon juice and mustard.

Simply whisk and pour this flavorful sauce over your bowl for a simple variation.
Notes:
Quinoa is a super seed that makes a great high-protein replacement for grains and boasts 16 grams of protein per serving.
You can create a simple bowl meal with these three components for the whole family for a week of healthy entree in just 3 simple steps!
Quinoa can be cooked in a rice cooker or on the stove top in the same fashion as rice. When you cook quinoa we recommend to add some dried spices to the mix while cooking for varying flavors in your final bowl dish.
___________________________
Did you know that most people don't get the proper amount of Vitamin D3? Especially in the winter, this is a vitamin that the body readily converts to a hormone that is important for the brain, heart and circulation, immunity, bone, muscle, lung, joints, kidneys, and overall vitality. I take this every single day!
Click

here

to read more about our BrainMD Vitamin D3 5000 and add it to your cart today!
Don't forget to use the code TANA21 for 21% off your first purchase from BrainMD (make sure you have an account and are signed in to use this offer).