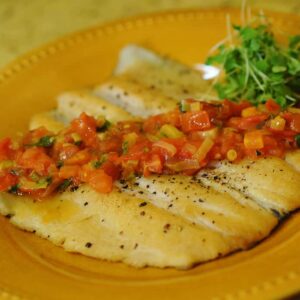 Nutrition Facts
Simply Delicious Pan-Seared Trout & Cucumber Salad
Amount per Serving
% Daily Value*
* Percent Daily Values are based on a 2000 calorie diet.
Ingredients:
4

persian cucumber

thinly sliced

1/2

avocado

diced

1

tablespoon

olive oil

2

teaspoons

dill

chopped

1

shallot

finely chopped

1

teaspoon

fresh lemon juice

1/4

teaspoon

sea salt

(optional

1/4

teaspoon

pepper

2

tablespoons

no-salt-added vegetable broth

1

small

leek

diced

4

plum tomatoes

seeded and diced

1

tablespoon

fresh tarragon

chopped

2

tablespoons

macadamia nut oil

4

6-8oz

wild trout fillets

1

tablespoon

fresh basil

chopped

3

cups

mixed greens
Directions:
Prepare the salad. In a medium bowl, combine cucumber, avocado, olive oil, dill, shallots, and lemon juice, and season with salt and pepper.

Cover and refrigerate for 30 minutes.

Heat vegetable broth over medium heat in a small pan. Add leek and sauté for 3 to 5 minutes.

Add tomatoes and sauté for another 3 minutes. Add tarragon to pan. Remove from heat and set aside.

Heat macadamia nut oil in a large nonstick pan over medium high heat. Add trout fillets, skin side down. Cook for 5 minutes. If trout fillets are large, you may need to cook them two at a time to make sure that they are completely flat on the skillet. The skins should get golden and a little crispy.

Turn fillets once for about 30 seconds. Turn back to skin side to be sure trout is cooked.

Sprinkle basil evenly over all fillets and remove from heat. Place fillets on plates.

Divide greens evenly between four plates. Put cucumber mixture over greens.

Serve with Trout.
Notes:
___________________________
Check out our products of Omega 3's here. Most people don't get an adequate amount of Omega 3's in their diet and that is devastating for your heart and overall health. My favorite is our Omega-3 power squeeze, I love putting it into my shakes every morning!
Don't forget to use the code TANA21 for 21% off your first purchase from BrainMD (make sure you have an account and are signed in to use this offer).