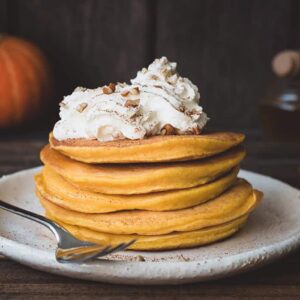 Nutrition Facts
Simple Pumpkin Pleasure Pancakes With Coconut Whipped Cream
Amount per Serving
% Daily Value*
* Percent Daily Values are based on a 2000 calorie diet.
Ingredients:
3

eggs

1/2

cup

organic canned pumpkin

1

tablespoon

almond butter

1

teaspoon

coconut oil

2

tablespoon

flax meal

you can either buy flax meal at the store or grind whole flax seeds in a coffee grinder

1

teaspoon

pumpkin pie spice

(depending on desired spiciness)

1

teaspoon

arrowroot

1

teaspoon

coconut sugar or maple syrup

(optional)

2

cans

coconut whipped cream

(optional)
Directions:
Pancake Preparation:
Mix flax meal, pumpkin pie spice, and arrowroot in small bowl.

In a blender, combine the eggs, pumpkin, almond butter, coconut oil and dry ingredients. Blend on high until just combined.

Warm a little coconut oil in large skillet or griddle on medium-low heat.

Add batter in small circles and watch closely; batter will cook very quickly. Flip pancakes after 30 to 45 seconds. Be sure to keep pancakes small, as they will cook more evenly and not burn.

Enjoy with coconut whipped cream and coconut sugar or maple syrup, if desired. Yum!
Coconut Whipped Cream
Refrigerate 2 cans of full fat coconut milk over night so the fat separates from the water.

Spoon the coconut fat into a cold bowl (refrigerate if possible), being careful not to get the water in with the solids.

If you have a mix KitchenAid stand mixer, start on low setting, increasing every few minutes until it's on high setting. Let it mix until it reaches whipped cream consistency (can take 15- 20 minutes).

Keep refrigerated until ready to serve.
Notes:
** Try adding a few drops of "Pumpkin Spice Stevia" to a couple tablespoons of maple syrup for a nice fall twist. If you don't have a KitchenAid stand mixer, you can use a hand held electric mixer, but it takes patience.
___________________________
A wonderful supplement to take daily is our ProBRAINbiotics MAX. Dr. Amen's new broad-spectrum super probiotic supplies 7 clinically studied probiotic strains for optimal intestinal support and inside-out health. Each strain is tested for identity, safety, and ease of use. You can find those here.
Don't forget to use the code TANA21 for 21% off your first purchase from BrainMD (make sure you have an account and are signed in to use this offer).