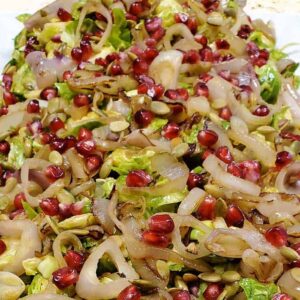 Nutrition Facts
Shaved Brussels Salad with Maple Balsamic Dressing
Amount per Serving
% Daily Value*
* Percent Daily Values are based on a 2000 calorie diet.
Ingredients:
FOR THE DRESSING:
2/3

cup

olive oil

1/8

cup

balsamic vinegar

2

tablespoons

maple syrup

1 1/2

tablespoons

Dijon mustard

1

pinch

sea salt
FOR THE SALAD:
4

cups

shaved Brussels sprouts

1

cup

shallots

(cut thin into rings)

1

cup

pomegranate seeds

1/2

cup

roasted pumpkin seeds
Directions:
First prepare the dressing recipe by shaking well in a mason jar or use an immersion blender to emulsify the ingredients. This dressing will save up to 14 days in the refrigerator so you may want to create a double batch!

Prepare the shallots in a small saute pan over low heat by sauteing with 1 tbsp olive oil until well browned.

Then in a large mixing bowl combine the raw shaved Brussels sprouts and 2/3 cup of dressing and toss until well coated. Let sit for 40 minutes before serving for best results.

Toss into the salad the pumpkin seeds and then place the mix onto a platter for serving.

Top with shallots and pomegranate seeds and serve with additional dressing on the side.

Chef Tip: This salad is very high in anti-oxidants which you can see from the bright color of the sprouts and pomegranate seeds. This helps to keep the salad fresh for up to 5 days in the refrigerator. Enjoy the mix as a wrap filling, as a topping for quinoa bowls, and other mix and match plant based meals throughout your week.
Notes:
Brussels Sprouts are a rich source of iron and important strength building minerals and they are the base of this non-traditional salad that can double as a great vegetable side dish. This recipe is an easy to share family style portion that can also be doubled or tripled to share with extended family and friends at your next social gathering. This dish can also be made in advance so it helps to reduce any stress around entertaining or joining in to that next potluck style celebration. The additional ingredients in this salad help to boost the protein power of this salad to over 12 grams per serving.
___________________________
Brussel sprouts also have an added benefit to decrease inflammation. If you are worried about inflammation in the brain, BrainMD has the perfect chewable Magnesium supplements. These powerful yet versatile vitamins help you feel calm under stress, sleep better, and encourage mental clarity with positive thinking.
Find them here.
Don't forget to use the code TANA21 for 21% off your first purchase from BrainMD (make sure you have an account and are signed in to use this offer).