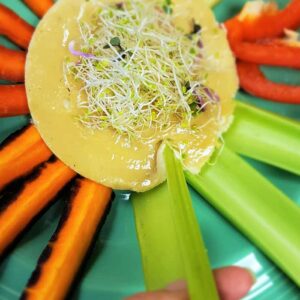 Nutrition Facts
Protein Plus Cashew Cheese
Amount per Serving
% Daily Value*
* Percent Daily Values are based on a 2000 calorie diet.
Ingredients:
2

cups

raw cashews

(soaked)

1

cup

water

1/3

cup

lime juice

1

teaspoon

sea salt

1

package

non-dairy yogurt starter

(1 serving from a bulk jar or box)
Directions:
Begin by blending all ingredients well until a thick creamy sauce texture is achieved. Be sure to blend long enough for the nuts to fully express their oils into the mixture. If your mixture looks grainy it is best to blend a little bit longer.

Place your ring mold on a flat tray or plate.

Pour your mixture into the mold and use a spatula to even out the top portion of the mixture.

Cover the mixture with parchment or wax paper with a few holes poked into the top and let sit on the counter in your kitchen for 48 hours. During this time the mixture will be naturally fermenting increasing in probiotic value and naturally converting some fats to protein.

*Optional: Place on a dehydrating tray inside the mold and dehydrate at 94 degrees for 24 hours- this will stimulate the fermentation process and speed up the time it takes to create the cheese. After dehydrating immediately refrigerate.

Refrigerate and let sit for an additional 24-48 hours. Every day that the cheese sits the more solid it will become. Refrigeration will keep the cheese from becoming more sour but it will allow for the texture to solidify.

Check the cheese daily and serve based on your preference of texture between day 3 and 5. Enjoy for up to 14 days in the refrigerator. After 14 days transfer to the freezer for future use.
Notes:
Cashews provide a great source of plant based protein, as well as healthy fats to fuel your brain, plus healthy probiotics! A simple recipe that accomplishes a great deal for your health. Supports optimal digestion and brain function. Provides building blocks for developing healthy bones and tissue. This plant-based cheese is simple to create with just 4 ingredients. Creating your first batch of cashew cheese might feel like the first time riding a bike, a little uncomfortable - BUT take heart after you get going you will love your new culinary skill!
For best results, be sure to follow the steps for getting your cheese started carefully.
Tools you will need: High-speed blender, 1 5-inch ring mold, offset spatula, flat plate or tray, wax or parchment paper, dehydrator (optional).
Makes 16 oz of cashew cheese.
___________________________
Adding protein to your diet is essential to help your body repair cells and make new ones. We have an incredible line of chocolate and vanilla protein powder to add to your morning shake, waffles or water! Our protein powder is sugar free, plant based, and it supports mental focus, muscle energy, exercise and stress recovery.
You can find our line of protein powder

here

.
Don't forget to use the code TANA21 for 21% off your first purchase from BrainMD (make sure you have an account and are signed in to use this offer).