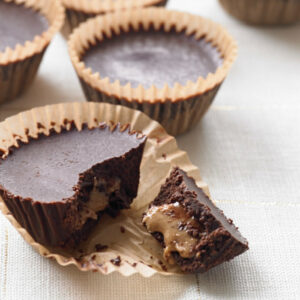 Nutrition Facts
Nutty Butter Cups
Amount per Serving
% Daily Value*
* Percent Daily Values are based on a 2000 calorie diet.
Ingredients:
12

candy paper or mini muffin liners

8

ounces

dark chocolate

sugar free and dairy free - try Brain In Love bars*

1/4

cup

almond butter

or seed butter, no stir

2

tablespoons

coconut oil

(optional)
Directions:
Line a mini muffin pan with candy paper or mini muffin liners. Standard muffin liners will be too large.

In a microwave-safe bowl, put about 2 1⁄2 ounces of the chocolate and coconut oil if desired. If using chocolate bars, break into pieces. Coconut oil is not necessary, but it will give you a bit of grace, guaranteeing you don't burn your chocolate, and that you get smooth, creamy sauce every time. Heat chocolate in 20- to 30-second intervals, stirring each time. Heat until the chocolate is completely melted and smooth, being careful not to burn it. If you prefer heating chocolate over the stove, either heat over low heat using a double boiler, or use a small pot and stir constantly so the chocolate doesn't burn.

When chocolate is liquefied, spoon about 1⁄2 teaspoon of the chocolate mix into each candy paper, just enough to cover the bottom of the paper.

Put tray in the freezer for about 5 minutes so chocolate hardens.

While chocolate is cooling in the freezer, melt remaining chocolate (and coconut oil if desired).

Remove tray from freezer. Drop about 1⁄2 teaspoon–size balls of nut butter in the middle of each cup, on top of the hardened chocolate base. Press lightly to flatten the ball so that the nut butter doesn't protrude over the top of the cup, but don't smash it down. The nut butter should remain in the center and not bleed out the edges of the chocolate base.

Spoon remaining chocolate mixture into each cup, covering the nut butter completely. Be sure you get the sauce around the sides. If necessary, flatten the top and smooth over with chocolate. If chocolate doesn't surround the sides of the nut butter, the nut butter will show through, and the cups will fall apart.

Freeze for about 15 minutes before serving.
Notes:
Be sure you use a firm "no-stir" brand of almond butter or seed butter. Most other nut butters are oily and separate. If it is too oily, it will bleed through the chocolate and cause the cups to fall apart. Also, keeping the cups small will make them easier to work with.
___________________________
The chocolate that I use called "Brain In Love" can be found

here

.
This is my husband's, Dr. Amen's, recipe. This chocolate is sugar free, gluten free, dairy free, cholesterol free, non GMO and good for your brain and body! Who said eating chocolate was bad for you. It's all about the type of chocolate you eat. You should always eat foods that love you back and this Brain In Love chocolate bar does just that.
Don't forget to use the code TANA21 for 21% off your first purchase from BrainMD (make sure you have an account and are signed in to use this offer).