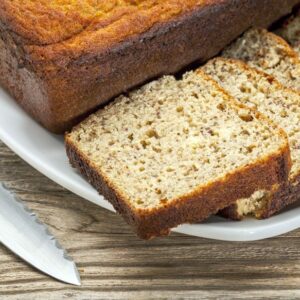 Nutrition Facts
Moist Grainless Maple Bread
Amount per Serving
% Daily Value*
* Percent Daily Values are based on a 2000 calorie diet.
Ingredients:
1/2

cup

almond flour

1/2

cup

coconut flour

1/4

cup

golden flax meal

1/2

teaspoon

baking soda

1/2

teaspoon

sea salt

5

eggs

1/4

cup

pure maple syrup

1

teaspoon

apple cider vinegar

1/4

cup

macadamia nut oil

1

tablespoon

vanilla extract

1

zest from one lemon

for a fresh citrus flavor (optional)
Directions:
Preheat oven to 350 degrees F.

In a medium bowl, mix dry ingredients - almond flour, coconut flour, flax meal, baking soda and sea salt.

In a large bowl whisk eggs, maple syrup and apple cider vinegar together.  Add oil, vanilla and lemon zest (if desired) and blend well.

Add blended dry ingredients to large bowl of wet ingredients.  Mix thoroughly.

Pour mixture into 2 well greased mini-loaf pans. Grainless breads often bake better in mini-loaf pans.   You may line the pans with parchment paper if you wish to save clean up time. 

Place loaf pans in oven and bake for 25 - 30 minutes, until toothpick inserted into center of loaf comes out clean. 

Cool and serve.
Notes:
Makes 2 small loaves.
___________________________
If you are looking for a clean and fast-acting energy source for peak brain and body performance, you need to try our Brain MCT energy supplement. This is a liquid that can also assist with maintaining a stable weight. By enhancing satiety, which restrains appetite and promotes fat burning, MCT can be helpful for curbing unhealthy eating and stabilizing body weight. You can find this product here.
Don't forget to use the code TANA21 for 21% off your first purchase from BrainMD (make sure you have an account and are signed in to use this offer).