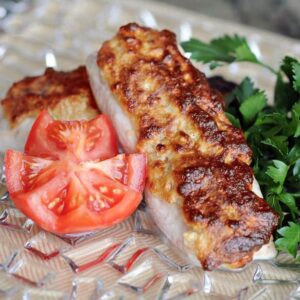 Nutrition Facts
Macadamia Crusted Mahi Mahi
Amount per Serving
% Daily Value*
* Percent Daily Values are based on a 2000 calorie diet.
Ingredients:
1/2

cup

macadamia nuts

2

tablespoons

no-salt-added vegetable broth

2

garlic cloves

1/2

teaspoon

chili powder

1

tablespoon

pure maple syrup

1

tablespoon

macadamia nut oil

4

6-8 ounces each

mahi mahi fillets
Directions:
Preheat broiler. If your broiler has more than one heat setting, set to lower setting. Line a baking sheet with foil.

In a food processor, combine nuts, broth, garlic, chili powder, maple syrup, and macadamia nut oil. Process until mixture is well blended and fine, but not pasty.

Smooth a thin coat of macadamia spread over one side of each mahi mahi fillet.

Place each fillet in the baking dish with the crusted side up.

Place fish on middle tray of oven and broil until crust is golden brown and fish flakes easily, about 12 minutes.
Notes:
___________________________
Check out our products of Omega 3's here. Most people don't get an adequate amount of Omega 3's in their diet and that is devastating for your heart and overall health. My favorite is our Omega-3 power squeeze, I love putting it into my shakes every morning!
Don't forget to use the code TANA21 for 21% off your first purchase from BrainMD (make sure you have an account and are signed in to use this offer).