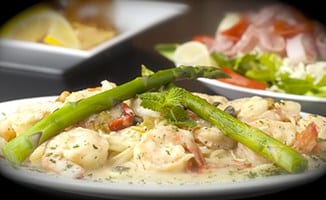 Nutrition Facts
Lemon Garlic Shrimp with Creamy Noodles
Amount per Serving
% Daily Value*
* Percent Daily Values are based on a 2000 calorie diet.
Ingredients:
1

pound

shrimp

peeled

1-2

teaspoons

garlic

minced

1

tablespoon

fresh minced parsley

or teaspoon dried cilantro

1

teaspoon

lemon zest

salt and pepper

to taste, usually about 1/8 teaspoon combined

28

ounces

fettuccine style (Miracle Noodle brand) shirataki noodles

(4 packages) or one 8-oz pack of pre-cooked quinoa pasta

1

tablespoon

coconut oil

1

tablespoon

white onions

minced

2

teaspoons

garlic

minced

1

tablespoon

arrowroot

rice flour or other gluten-free flour

2

teaspoons

warm water

(optional)

1 1/3

cups

full-fat coconut milk


(or a little less plain almond milk)

1

teaspoons

lemon zest

as desired

1 1/2

tablespoons

fresh minced parsley or cilantro

(optional)

1

teaspoon

dried sea salt and pepper

to taste, usually about 1/8 teaspoon combined

1

tablespoon

coconut oil
Directions:
In large bowl, toss shrimp, garlic, parsley or cilantro, lemon zest, salt and pepper. Set aside until ready to sauté.

Drain shirataki noodles from solution and boil in medium to large pot of water for about 5 minutes. Leave in water and set aside. If you're using quinoa pasta, drain water when pasta has finished cooking according to package. Set aside. While noodles are boiling, prepare sauce.

In medium sauce pan, add coconut oil and over medium heat, sauté onions. Add garlic and continue to sauté 15 seconds.

Add arrow root or rice flour and whisk 30 seconds to create a light sauce and prevent clumping. To ensure arrowroot doesn't clump you can dissolve it in a couple teaspoons of warm water, but do not make it too thin. While whisking, slowly add coconut milk. Simmer sauce for a couple minutes over low to medium heat, whisking continuously.

Add lemon zest, parsley or cilantro if desired, salt and pepper. Keep warm on low heat. Set cream sauce aside until you're ready to toss with noodles.

In large sauté pan, cook marinated shrimp in coconut oil over medium heat, about 30 seconds to one minute on each side (less or more depending on the size the shrimp) until they are just pink on each side and starting to curl up.

Toss the noodles with the cream sauce and divide among four plates. Top with shrimp and garnish with parsley or cilantro if desired.
Notes:
This recipe is a crowd pleaser, and so simple.
Using shirataki noodles makes this dish totally guilt free!
If you haven't used shirataki noodles, the preparation may seem a bit different. They come packed in water and "ready to go," so the package amounts are deceptive. Also, there are virtually no digestible calories in shirataki noodles. They are primarly fiber, so they make a great filler. It takes about four packages of shirataki noodles to equal about one eight-ounce package of quinoa pasta after the liquid has been drained.
If you choose quinoa pasta, remember that pasta is a "condiment." Even though quinoa pasta is gluten free, it is carbohydrate heavy.
___________________________
Check out our products of Omega 3's here. Most people don't get an adequate amount of Omega 3's in their diet and that is devastating for your heart and overall health. My favorite is our Omega-3 power squeeze, I love putting it into my shakes every morning!
Don't forget to use the code TANA21 for 21% off your first purchase from BrainMD (make sure you have an account and are signed in to use this offer).