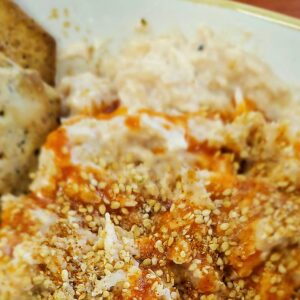 Nutrition Facts
Jackfruit "Tuna" Dip
Amount per Serving
% Daily Value*
* Percent Daily Values are based on a 2000 calorie diet.
Ingredients:
1

pouch

jackfruit

1

cup

Veganaise®

or other vegan mayo alternative

1/4

cup

lemon juice

1

teaspoon

paprika

1/2

teaspoon

sea salt

1

tablespoon

sesame seeds

(optional as garnish)
Directions:
Remove jackfruit from the pack, drain water and rinse.

In a mid-sized mixing bowl smash into a shredded piece.

Add lemon juice and combine it with the jackfruit by smashing with the fork just a bit more.

Add in the remaining ingredients and mix well with fork.

Serve with seed crackers.

Garnish with sesame seeds and spices as desired.
Notes:
Jackfruit is an excellent plant based source of fiber and is easy to find now in any health food store, ready to use. It's a whole fruit which can be found in the vegetable or bean aisle, in an easy to use pack. Simply drain the jackfruit from the packing water to start working with it!
When thinking of substituting foods like fish, it's important to find a whole foods alternative that offers a dense base of nutrition versus a highly processed plant based alternative meat. For this recipe we switched out the "fish" in a common tuna dip for a shredded jackfruit. Try it in a dish like this for a fun alternative to the standard tuna dip.
The crackers pictured are made from seeds. They're the Simple Mills brand.
___________________________
If you are looking for a vitamin to add to your daily routine, our Neurovite Plus is the first and only daily multivitamin that contains over 50 powerful vitamins, minerals, and plant extracts developed through clinical studies. NeuroVite Plus was formulated to provide whole-body wellness with additional key brain-healthy nutrients.
You can find this

here

.
Don't forget to use the code TANA21 for 21% off your first purchase from BrainMD (make sure you have an account and are signed in to use this offer).