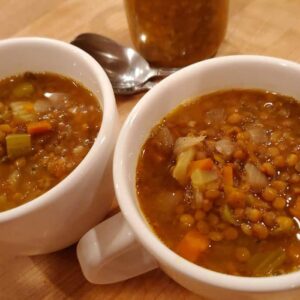 Nutrition Facts
Easy Protein Power Lentil Soup Mugs
Amount per Serving
% Daily Value*
* Percent Daily Values are based on a 2000 calorie diet.
Ingredients:
5

cups

vegetable broth

(or filtered water)

2 1/2

cups

dried lentils

(red or green)

1

cup

white onion

chopped

1

cup

carrots

diced

1

cup

celery

chopped

2

tablespoons

avocado oil

2

garlic cloves

1

teaspoon

paprika

1

teaspoon

chili powder

1

teaspoon

sea salt

1

cup

quinoa

(optional) cooked
Directions:
You can easily create this recipe on a Stovetop or in an Instapot.
For the Stovetop
Bring water to a boil.

Add add ingredients to the boiling water (save quinoa if using this option).

Leave the heat up until the mixture begins to boil again and then reduce to a simmer.

Cover and let simmer for 25 minutes.

Remove from heat and serve in a mug garnished with fresh Italian parsley. If opting to boost the protein by adding quinoa scoop 1/4 cup on top of each serving and enjoy!

Refrigerate left-overs for use for up to 7 days. Freeze if you need to save for a later date!
For the Instapot
Place all ingredients into the pot.

Set for chili and allow to seal and start cooking under pressure.

When the timer beeps, let count up for 10 minutes.

Manually vent and remove the soup from the Instapot.

Serve warm garnished with fresh Italian parsley or topped with the optional quinoa.

Follow the same storage instructions as the Stovetop version.
Notes:
NOTES:
This soup makes an excellent filling chilled and mixed with chopped dark leafy greens like kale and spinach inside of a wrap!
Lentils are an easy plant based protein add-in for a week of powerful foods.
This recipe can be enjoyed as a side dish, an afternoon snack or a full meal. It can also be made in a double-batch and enjoyed for up to 7 days after preparing.
Lentils provide 18 grams of protein per serving and are rich in minerals.
One 8oz mug of this soup will provide 16 grams of protein plus a daily dose of magnesium, iron and folate.
The healthy carbohydrate provided by lentils actually works to help your body burn fat while providing energy.
___________________________
Adding protein to your diet is essential to help your body repair cells and make new ones. We have an incredible line of chocolate and vanilla protein powder to add to your morning shake, waffles or water! Our protein powder is sugar free, plant based, and it supports mental focus, muscle energy, exercise and stress recovery.
You can find our line of protein powder

here

.
Don't forget to use the code TANA21 for 21% off your first purchase from BrainMD (make sure you have an account and are signed in to use this offer).