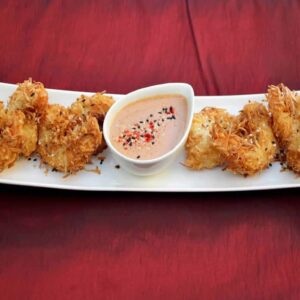 Nutrition Facts
Crafty Coconut Shrimp
Amount per Serving
% Daily Value*
* Percent Daily Values are based on a 2000 calorie diet.
Ingredients:
1

cup

macadamia nuts

1

cup

shredded coconut

unsweetened (I like the coarse long shredded coconut)

1/4

cup

coconut or almond flour

1/2

teaspoon

onion powder

1/2

teaspoon

garlic powder

2

eggs

1

pound

extra jumbo shrimp

peeled, deveined, uncooked

3

tablespoons

ghee or coconut oil

for frying

1/2

teaspoon

salt and pepper

(as desired)
Directions:
Place macadamia nuts in a food processor bowl. Grind until nuts are chopped, but not to the consistency of flour or meal; mixture should remain course. (If you over mix, the natural oils will emerge and the mixture will begin to clump.)

Once nuts are finely chopped, place them in a bowl and mix in coconut. Blend well.

Mix coconut flour, onion powder and garlic powder in wide, shallow bowl.

In separate bowl, whisk eggs thoroughly.

Line bowls up: coconut flour mixture first, then egg, then macadamia nuts.

Prepare two cookie sheets. Line one cookie sheet with parchment paper. Prepare second sheet with layers of paper towels to place shrimp on after cooking. The paper towels will absorb excess oil.

Rinse shrimp and pat dry with paper towels.

One at a time, place each shrimp in coconut flour, lightly coating on all sides.

Next, dip shrimp in egg, covering all sides.

Finally, roll in ground macadamia and coconut mixture and place on cookie sheet with parchment paper. Do this until all the shrimp are rolled in macadamia nuts and lined up on the parchment paper.

In large skillet, heat 2 tablespoons ghee or oil over medium heat. When ghee or oil is hot, place shrimp in skillet and cook for approximately 1 minute on each side. Add oil as necessary. Turn, making sure to cook evenly on both sides. Turn again. Shrimp should cook for approximately 1½ to 2 minutes per side or until golden brown. The smaller the shrimp, the faster they will cook.

Remove shrimp and place on cookie sheet containing paper towels to absorb excess oil. Salt and pepper as desired.
Notes:
___________________________
Check out our products of Omega 3's 

here

.
Most people don't get an adequate amount of Omega 3's in their diet and that is devastating for your heart and overall health. My favorite is our Omega-3 power squeeze, I love putting it into my shakes every morning!
Don't forget to use the code TANA21 for 21% off your first purchase from BrainMD (make sure you have an account and are signed in to use this offer).