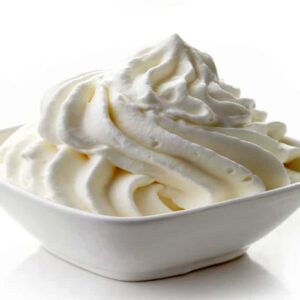 Nutrition Facts
Coconut Milk Whipped Cream Or Frosting
Amount per Serving
% Daily Value*
* Percent Daily Values are based on a 2000 calorie diet.
Ingredients:
2

cans

coconut milk

unsweetened, full fat

1/4-1

teaspoon

monk fruit powder

(pure, or stevia)

1+

teaspooons

vanilla extract
Directions:
Place the cans in the refrigerator overnight. The fats will solidify and separate from the coconut water. Scoop out the cold coconut cream solids, leaving the watery liquid, and put in a medium mixing bowl or electric stand mixer.

Add in ¼ tsp monk fruit powder (or stevia) and vanilla, whisk on high until fluffy and stiff peak consistency, taste. Add a little more monk fruit powder or stevia to taste and whisk again.
Notes:
Serving Suggestion: Use to decorate Strawberry Cupcakes - click for recipe.
The fluffed creamy solids of the coconut milk should hold up well for service, but refrigerate if you want to hold it for a while or overnight.
Monk fruit powder is sold in a few different forms, generally combined with ingredients like dextrose which is not good for us (a corn derivative). It can be found combined with erythritol which may be ok, but can be hard on a sensitive tummy. Pure monk fruit is VERY sweet on the taste buds, so a little goes a long way. Start with 1 tsp and add more as needed!
___________________________
If you are feeling that you need a little support with making better choices when hunger strikes, you should try our Craving Control supplements. Anyone who has ever tried to make better choices knows all too well how cravings can sabotage the best intentions. Craving Control contains all-natural ingredients that help to calm the craving centers in our brain, balance blood sugar and promotes a positive mood.
You can find these

here

.
Don't forget to use the code TANA21 for 21% off your first purchase from BrainMD (make sure you have an account and are signed in to use this offer).