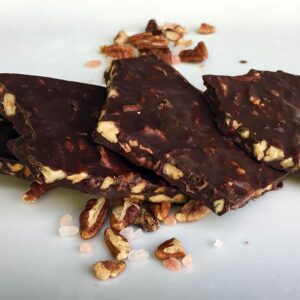 Nutrition Facts
Chocolate Pecan Crunch
Amount per Serving
% Daily Value*
* Percent Daily Values are based on a 2000 calorie diet.
Ingredients:
1

cup

pecans

chopped

1/2

cup

coconut oil

1/4

cup

cacao nibs

1

teaspoon

vanilla extract

1/4

teaspoon

salt

7

Brain In Love Chocolate Bars*

broken into pieces (or 9oz chocolate chips sweetened with stevia or erythritol)

1/2

teaspoon

English toffee stevia liquid
Directions:
Line a half cookie sheet with parchment paper.

Gather and measure all ingredients for quick mixing.

In a medium sauté pan, on medium heat, melt the coconut oil with the chopped pecans. Stir with wooden spoon while pecans begin to toast (this will happen quickly and can be burnt instantly, so watch carefully). When they begin to changing to a golden color and smell toasty, remove from heat immediately.

Quickly fold in chocolate, vanilla, salt and cacao nibs.

Mix until melted and add English toffee stevia (if you don't have this available, the other ingredients are delicious without it … but the stevia amps up the toffee flavor).

Spread mixture onto parchment lined half sheet pan and place in freezer at least 15 minutes or until cold and solid.

Cut into 26 squares or break into pieces by hand.

Store in an air tight container in the freezer as they do melt at room temperature.
Notes:
___________________________
The chocolate that I use called "Brain In Love" can be found here. This is my husband's, Dr. Amen's, recipe. This chocolate is sugar free, gluten free, dairy free, cholesterol free, non GMO and good for your brain and body! Who said eating chocolate was bad for you. It's all about the type of chocolate you eat. You should always eat foods that love you back and this Brain In Love chocolate bar does just that.
Don't forget to use the code TANA21 for 21% off your first purchase from BrainMD (make sure you have an account and are signed in to use this offer).