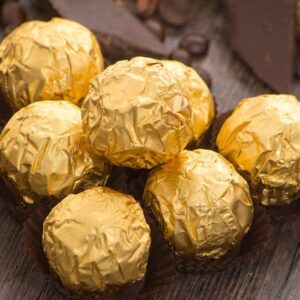 Nutrition Facts
Chocolate Cashew Protein Balls
Amount per Serving
% Daily Value*
* Percent Daily Values are based on a 2000 calorie diet.
Ingredients:
1/2

cup

chocolate protein powder

chocolate or vanilla plant based Brain MD protein powder

1

cup

cashew butter

or other tree-nut butter, or seed butter, no stir

2

tablespoons

erithrytol

or powdered stevia, or monk fruit, or honey (optional)

1/4

cup

flax meal

1

teaspoon

cinnamon

(or Cacao powder for more chocolate flavor)

2

teaspoons

vanilla

1/4

cup

chocolate chips

dairy free, sugar free (Lilly's Brand is great)

24

toothpicks

8

ounces

dark chocolate

dairy free, sugar free, Brain MD brand

2

tablespoons

coconut oil

(optional)

24

truffle liners

(optional)

24

colorful foil wrappers

(optional)
Directions:
Line a cookie sheet with parchment or wax paper.

In a large bowl, thoroughly mix together protein powder, cashew butter, erithrytol, flax meal, cinnamon, vanilla, and chocolate chips.

Form into balls, insert toothpick in each, place on parchment paper, and refrigerate for a minimum of 30 minutes.

In a microwave-safe bowl, put the 8 ounces of chocolate (and coconut oil if desired). If using chocolate bars, break into pieces. Coconut oil is not necessary, but will give you a bit of grace, guaranteeing you don't burn your chocolate, and give you a smooth, creamy sauce every time. Heat chocolate in 20- to 30-second intervals, stirring each time. Heat until chocolate is completely melted and smooth, being careful not to burn it. If you prefer heating chocolate over the stove, either heat over low heat using a double boiler, or use a small pot and stir constantly so the chocolate doesn't burn.

When chocolate is liquefied, dip each ball into chocolate mix and place back on cookie sheet.

Place tray of chocolate covered protein balls in the refrigerator for a minimum of 30 minutes so chocolate hardens.

If desired wrap in colorful foil wrapping, remove toothpicks, then place in truffle liners. Store in refrigerator.
Notes:
Be sure to use a firm "no-stir" brand of cashew butter (or other nut butter - see video below) or seed butter. Keeping the balls small will make them easier to work with.
___________________________
The chocolate that I use called "Brain In Love" can be found

here

.
This is my husband's, Dr. Amen's, recipe. This chocolate is sugar free, gluten free, dairy free, cholesterol free, non GMO and good for your brain and body! Who said eating chocolate was bad for you. It's all about the type of chocolate you eat. You should always eat foods that love you back and this Brain In Love chocolate bar does just that.
Don't forget to use the code TANA21 for 21% off your first purchase from BrainMD (make sure you have an account and are signed in to use this offer).