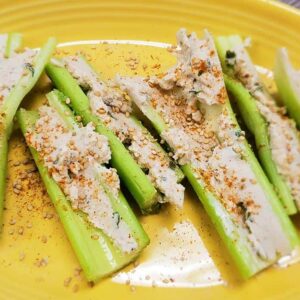 Nutrition Facts
Celery Stick + Tahini Cheese Quick Snack
Amount per Serving
% Daily Value*
* Percent Daily Values are based on a 2000 calorie diet.
Ingredients:
For the Dippers:
8

celery stalks

large, cut into 4 equal pieces each
For the Tahini Cheese:
1 1/2

cups

natural tahini paste

2/3

cups

fresh lemon juice

1/2

cup

cilantro

leaves only

1/2

cup

green onions

chopped

2

cloves

garlic

1

teaspoon

sea salt
Directions:
In a basic blender pulse the tahini paste, lemon juice and sea salt until coarsely combined.

Add in the cilantro, green onions and garlic and then pulse again for 10-15 seconds until coarsely combined.

Prepare the celery with 1-2 tbsp of tahini cheese per celery stick.

Refrigerate additional portions until ready to enjoy.
Notes:
In need of a quick pick me up? This snack is a quick hydrating way to boost your minerals, offering a guaranteed energy boost. The tahini "cheese" is a great vegan dip to enjoy anytime and can be made up to 14 days in advance.
Tahini is an excellent source of iron, calcium and b vitamins. It is particularly good for pregnant women as well as a great vegan source of healthy fats. This nutrient dense ingredient is an important part of plant based pantries offering important nutritional building blocks.
___________________________
If you are pregnant or planning to be pregnant, BrainMD has an incredible "Smart Prenatal" supplement with 28 ethically sourced, pure micronutrients to ensure healthy brain and body development. You can find this product here.
Don't forget to use the code TANA21 for 21% off your first purchase from BrainMD (make sure you have an account and are signed in to use this offer).