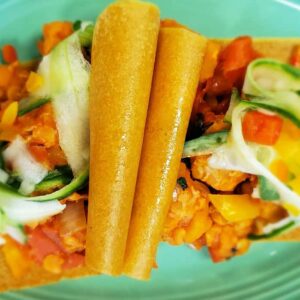 Nutrition Facts
Buffalo Tempeh Taco Wraps
Amount per Serving
% Daily Value*
* Percent Daily Values are based on a 2000 calorie diet.
Ingredients:
For the Buffalo Sauce
1

tomato

(diced)

1

red bell pepper

(cored and seeded)

1/2

serrano pepper

(chopped)

2

tablespoons

green onions

(chopped)

1

tablespoon

olive or avocado oil

cold pressed

1

tablespoon

apple cider vinegar

1

tablespoon

spicy chili powder

1/2

teaspoon

sea salt
For the Tempeh
3

cups

tempeh

(of your choice)

1/2-2/3

cup

Buffalo Sauce

from this recipe

1

tablespoon

avocado oil

cold pressed
For the Tahini Spread
1/2

cup

tahini paste

1/4

cup

lime juice

1/2

teaspoon

sea salt
For the Taco Wraps
2

servings

coconut wraps

(or napa cabbage leaves, or cassava wraps)

1

cup

cucumber

diced

1/2

cup

carrots

diced (or other root vegetable)

1/4

cup

cilantro, green onion, or both

(or other fresh herbs)

Tahini Spread

from this recipe

Marinated Tempeh

from this recipe
Directions:
For the Buffalo Sauce
In a small personal blender combine all ingredients for this sauce and puree until a rich sauce is formed. Refrigerate until use.
For the Tempeh
In a mid-sized skillet over medium heat toss the tempeh and Buffalo sauce along with the oil.

Saute over medium heat until tempeh has absorbed all of the sauce and the edges of the tempeh are slightly crisped.
For the Tahini Spread
In a small bowl whisk together until a thick paste forms. Refrigerate until use.
For the Taco Wraps
On a cutting board lay out your wraps.

In the middle of the wrap evenly spread 1-2 tbsp of tahini spread.

Top the tahini spread evenly with the marinated tempeh across all wraps.

Top the temped with the fresh vegetable and herbs, enjoy fresh and warm!
Notes:
For best results you can make in advance all the parts of this recipe and combine together at meal time! 
Tempeh is a high protein plant food that can be easily marinated and prepared. It is naturally grain free and I recommend using varieties made from chickpeas or lupin beans for best results with this recipe. These beans are also anti-inflammatory and have an enjoyable flavor. Chickpea tempeh has 31g of protein per cup! Tempeh also features a probiotic developed during the natural fermentation process when tempeh is created making tempeh very easy to digest.
This rich and flavorful recipe has 3 parts which can also be integrated into other recipes in your weekly food planning.  First you must create the buffalo sauce to marinate and cook the tempeh in. Then you will want to prepare the tahini spread which is fast and simple to prepare making this a great go to spread for adding a fast preservative free spread to any meal. Finally you will combine these two recipes with fresh vegetables in your choice of wrap for a delicious meal in minutes.
When it comes to wraps you have a few options, my favorite being grain-free coconut wraps like these from Sunfood Nutrition. These have a nice flavor and density for hand-held preparations: https://www.sunfood.com/food/coconut-wraps.html
___________________________
If you are unsure where to start with taking supplements, we have our "Brain and Body Power" packets for the easiest way to get your daily mind and body essentials. Parceled into convenient packets including a brain optimizing multi-vitamin-mineral, and pure omega-3 fish oil capsules.
You can find this

here

.
Don't forget to use the code TANA21 for 21% off your first purchase from BrainMD (make sure you have an account and are signed in to use this offer).