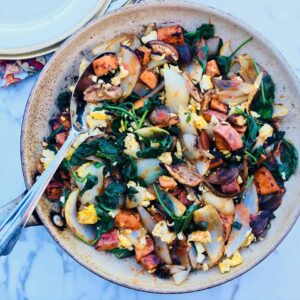 Nutrition Facts
Brain Warrior Breakfast Skillet
Amount per Serving
% Daily Value*
* Percent Daily Values are based on a 2000 calorie diet.
Ingredients:
1

tablespoon

macadamia nut oil

(or coconut oil)

1

cup

yams

(chopped into bite size)

1

cup

yellow onion

(chopped into bite size)

1

cup

cremini mushrooms

1

cup

shiitake mushrooms

1

teaspoon

cinnamon

1

tsp

paprika

(regular or smoked)

salt & pepper

(to taste)

4

cups

spinach

(or broccoli or kale or beet greens)

4

eggs
Directions:
PREPARATION OPTION 1 (in a large skillet):
Heat your oven to 375F convection.

Toss the yams, onions, mushrooms and spices with oil in the skillet.

Cook about 15-20 minutes until the yams and onions are browned.

Toss a bit, add spinach or other veggies, whisked eggs to create a scramble, then bake another 10-15 minutes.

This option is my favorite as it can cook while I'm getting ready. It makes my life easier and it makes the house smell delicious! Add a dash of your favorite hot sauce. Use your favorite green veggies, add any herbs you love.
PREPARATION OPTION 2 (in a large skillet):
Heat your skillet on the stove top on medium to high heat.

Add in oil and yams, cook to brown and start to soften, about 8 minutes.

Add onion to brown slightly, about 5 minutes.

Add mushrooms and spices and brown, about 5 minutes.

Add spinach to finish and a dash of salt and pepper.

You can then either fold in whisked eggs to create a scramble OR quickly cook your eggs sunny side up separately and plate together!
Notes:
HEALTH BENEFITS: Cinnamon, Paprika, and Pepper: Anti-Inflammatory/Pain Relief/Blood Flow/Blood Sugar. Eggs: Healthy Fat
___________________________
Mushrooms are a rich, low calorie source of fiber, protein, and antioxidants. We have an incredible product called "Smart Mushrooms" that I add to my shakes every morning. You can find this product here.
Don't forget to use the code TANA21 for 21% off your first purchase from BrainMD (make sure you have an account and are signed in to use this offer).