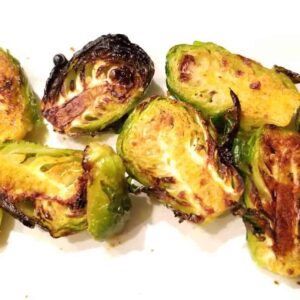 Nutrition Facts
Blistered Brussels Sprouts
Amount per Serving
% Daily Value*
* Percent Daily Values are based on a 2000 calorie diet.
Ingredients:
4

cups

brussels sprouts

whole

2

tablespoons

avocado oil

1

teaspoon

sea salt

2

tablespoons

light chili pepper seasoning

(optional)
Directions:
Cut all Brussels sprouts in half lengthwise from the roundest top to the bottom of the root.

Blanch in boiling water for 3-4 minutes.

Drain and dry off.

Pre-heat oven to broil.

Lay on the round portion of the "back" of the Brussels sprout with the flat portion facing up across a lined baking sheet.

In a small bowl whisk together the oil, sea salt and seasoning.

Brush the Brussels sprouts with the oil mix lightly across the top of each.

Broil for 20 minutes on the top rack. Check half way through to ensure your Brussels do not over blister. If your Brussels are already very brown at this point move to the lower rack and broil for only 5 more minutes.

Remove from heat and let cool in order to serve.

Chef Tip: These blistered Brussels sprouts make a lovely veggie dipper into buffalo or healthy BBQ sauce. They are a fun addition to any BBQ or potluck and are easy to make in large batches.
Notes:
Blistered Brussels are a great way to enjoy this fabulous and nutrient dense vegetable. Brussels contain vitamin c, folates, omega 3 fatty acids, and fiber. Overall they may be one of the most well "rounded" veggies out there.
This dish is quick and easy to add to your weekly food preparation routine. Once this dish is finished it saves well for up to 5 days refrigerated.
___________________________
Check out our products of Omega 3's 

here

.
Most people don't get an adequate amount of Omega 3's in their diet and that is devastating for your heart and overall health. My favorite is our Omega-3 power squeeze, I love putting it into my shakes every morning!
Don't forget to use the code TANA21 for 21% off your first purchase from BrainMD (make sure you have an account and are signed in to use this offer).