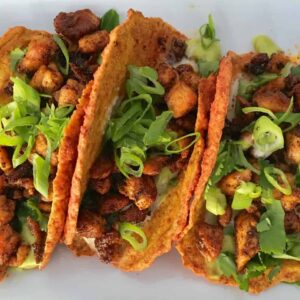 Nutrition Facts
Beet Street Chicken Tacos
Amount per Serving
% Daily Value*
* Percent Daily Values are based on a 2000 calorie diet.
Ingredients:
Beet & Cauliflower Tortillas

(see recipe on this website)

1

lb

chicken thighs

(no skin / no bone - organic, antibiotic free, hormone free, free range)

1

teaspoon

smoked paprika

1

teaspoon

ancho chile

1

teaspoon

oregano

1

teaspoon

coriander

1

teaspoon

cumin

1

teaspoon

onion powder

1

teaspoon

garlic powder

1

teaspoon

turmeric

1

teaspoon

cinnamon

2

tablespoons

macadamia nut oil

1

large

yellow onion

(about 2 cups minced)

2

limes juiced

(about 1/4 cup juice)

salt & pepper

to taste
Directions:
Prepare the Beet & Cauliflower Tortillas. While they are baking, prepare the filling.

Chop the chicken thighs into small pieces (minced).

In a small bowl combine and blend all spices: smoked paprika, ancho chile, oregano, coriander, cumin, onion powder, garlic powder, turmeric, cinnamon.

In a hot sauté pan, cook the onions with 1 Tbsp macadamia nut oil until lightly caramelized.

Turn the heat down and add your spices. Cook just 20 seconds or so to lightly toast (any longer may burn them).

Add the chicken thighs and stir to coat with the spice and onion mix, turn the heat back up to medium-high. Add the other 1 Tbsp of macadamia nut oil. Stir occasionally until fully cooked and a little crispy, about 8-10 minute, less depending on how hot your pan is. Finish with lime juice.
Options:
Stir the juices from the beet cauliflower tortillas into the meat to create delicious sauce.

Serve with your favorite hot sauces, salsas, guacamole, dairy-free cashew sour "cream", lettuces, radishes, cilantro, green onions, lime wedges, etc.

Add cayenne or chipotle to your spice mix for some heat and added health benefits.
Notes:
Enjoy with Beet & Cauliflower Tortillas and your favorite condiments - try my Cashew Sour Cream.
___________________________
Beets have essential nutrients including Vitamin C.  If you are looking for more Vitamin C, BrainMD has an incredible liquid supplement called "Neuro-C Vitamin C". I put this in my shake every single morning without fail. This product provides major antioxidant defense, vitamin C is crucial for circulation, immunity, skin quality, peak mental performance, and overall well-being.
You can find more info about this supplement

here

.
Don't forget to use the code TANA21 for 21% off your first purchase from BrainMD (make sure you have an account and are signed in to use this offer).