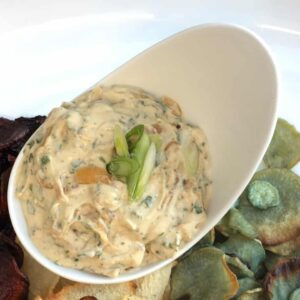 Nutrition Facts
Almond Cream French Onion Dip
Amount per Serving
% Daily Value*
* Percent Daily Values are based on a 2000 calorie diet.
Ingredients:
1

tablespoon

macadamia nut oil

(or coconut nut oil)

2

yellow onions

peeled, cut in half and thinly sliced

2

8oz packets

Almond Cream Cheese Style Spread

1

juice of lemon

(about 1/4 cup)

2

tablespoons

chives

fresh, minced

2

tablespoons

parsley

fresh, minced

3

tablespoons

dried onion powder

1

tablespoon

dried garlic powder

salt and pepper

to taste
Directions:
In a sauté pan over medium heat, combine the macadamia nut oil and thinly sliced yellow onions. Cook until caramelized, adding a dash of water during the process to keep the onions from charring. Once they have turned a golden color and are soft, remove from heat and cool completely.

In a medium bowl, combine 2 packages almond cream cheese with the juice of one lemon, minced chives and parsley, onion powder, and garlic powder. Stir in 2-3 tablespoons of water to thin.

Fold in caramelized onions and season with salt and pepper to taste. If the dip is really thick, simply add a dash more water. Serve chilled with Roasted Red White & Blue Crisps.
Notes:
Not all almond cream cheese products sold in stores are created equal. You can make your own cream by soaking almonds (or cashews or macadamia nuts) in water for at least 8 hours, rinsing, then blending with a bit of fresh water. If you do so, maybe add a little more lemon juice to this recipe to enhance the tart "sour cream" flavor found in traditional French onion dips.
___________________________
If you are feeling that you need a little support with making better choices when hunger strikes, you should try our Craving Control supplements. Anyone who has ever tried to make better choices knows all too well how cravings can sabotage the best intentions. Craving Control contains all-natural ingredients that help to calm the craving centers in our brain, balance blood sugar and promotes a positive mood.
You can find these

here

.
Don't forget to use the code TANA21 for 21% off your first purchase from BrainMD (make sure you have an account and are signed in to use this offer).