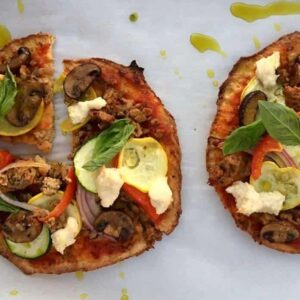 Nutrition Facts
Almond Cauliflower Crust Everything Pizza
Amount per Serving
% Daily Value*
* Percent Daily Values are based on a 2000 calorie diet.
Ingredients:
CRUST
1/2

head

cauliflower

(large)

1

cup

almond flour

3

eggs

dash

salt

(optional)
VEGGIES & MEAT
1/2

lb

ground turkey

organic dark meat

1

tablespoon

oregano

fresh or dry

1

teaspoon

fennel seeds

(optional)

1

teaspoon

garlic powder

fresh or dry (optional)

1/2

teaspoon

crushed red pepper

(optional ... spicy!)

salt & pepper

to taste

1/2

cup

tomato sauce

organic, no sugar added (8 tablespoons)

1/2

cup

zucchini or yellow squash

(sliced or chopped)

1/2

cup

red onion

(sliced or chopped)

1/2

cup

red bell pepper

(sliced or chopped)

4

oz

almond cream cheese or almond ricotta

1

oz

basil

fresh & chopped
Notes:
HEALTH BENEFITS Cauliflower: Excellent for flushing toxins, Anti-Inflammatory, Balances Hormones. Almonds: Balance blood sugar, provide magnesium, antioxidants, fiber, healthy fats. Turkey: Lean protein, immunity and serotonin booster, hormone balance. Veggies & Peppers: Vitamins & minerals, antioxidants, anti-Inflammatory, immunity boosters. Basil: Disease Fighting Antioxidants, helps prevent cancer, protects blood vessels & liver. Garlic: Super immunity booster, blood sugar regulator, anti-inflammatory, anti-oxidant.
___________________________
If you are feeling like you need something extra to fight anxiety and feel more calm and happy, you need to check out our Gaba health calming support supplements. I take this almost everyday and it helps me so much.
You can find this

here

.
Don't forget to use the code TANA21 for 21% off your first purchase from BrainMD (make sure you have an account and are signed in to use this offer).