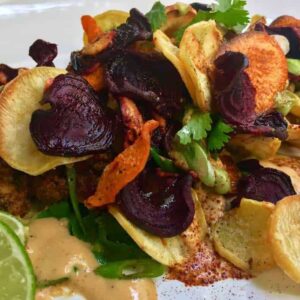 Nutrition Facts
Beets 'N' Sweets Nachos
Amount per Serving
% Daily Value*
* Percent Daily Values are based on a 2000 calorie diet.
Ingredients:
2

cups

cashews

organic, raw (soaked overnight in cold water)

1

bell pepper - orange

(seeds removed, chopped)

1

tablespoon

ancho chile powder

1

teaspoon

garlic powder

1

teaspoon

cumin

2

tablespoons

lime juice

(1 lime)

salt & pepper

to taste

2

cups

red beets

large (peeled and sliced in thin rounds)

6

tablespoons

macadamia nut oil

2

cups

sweet potato

large (peeled and sliced in thin rounds)

2

cups

yams

(peeled and sliced thin in rounds)

1

bunch

green onions

(about 1 cup finely diced)

1

bunch

cilantro

(about 1 cup chopped)
Directions:
To Make "Nacho Cheese" Sauce:
Soak the cashews at least 8 hours in cold water just to cover. Drain the water.

Put the cashews in a high-powered blender and add about 1 cup fresh cold water. Blend on high until creamy and smooth. If you feel it is too thick, simply add more water a little at a time to create a runny cream consistency.

Add the orange bell pepper, ancho chile, garlic powder, cumin, and lime juice to blend into a creamy "cheese" sauce.

Hold in refrigerator up to a week or freeze for later.
To Make Crisps:
Preheat oven to 375F (convection if possible).

Line 3 sheet pans with parchment paper.

Toss the red beets with 2 tbsp macadamia nut oil and spread around one sheet pan.

Toss the sweet potatoes and yams each with 2 tbsp macadamia nut oil and spread on the other two sheet pans.

Roast about 10 minutes and check. You may find that having a cool sheet pan handy to place browned crisps on is helpful as they tend to cook at different rates and some may need a few extra minutes. Watch every couple of minutes until all the crisps are crunchy or lightly browned.
To Make Nachos:
Warm the Nacho Cheese Sauce over low heat until bubbly. It will thicken quickly and you can easily thin it out a little with water.

Place Crisps on a platter, drizzle with Nacho Cheese Sauce and garnish with Green Onions and Cilantro. Enjoy!
Notes:
• Add Taco Seasoned Meat or chickpeas for protein.
• Add chipotle pepper or minced jalapenos for heat.
• Add avocado, diced tomatoes, and shredded greens for added health benefits.
___________________________
Beets have essential nutrients including Vitamin C.  If you are looking for more Vitamin C, BrainMD has an incredible liquid supplement called "Neuro-C Vitamin C". I put this in my shake every single morning without fail. This product provides major antioxidant defense, vitamin C is crucial for circulation, immunity, skin quality, peak mental performance, and overall well-being.
You can find more info about this supplement

here

.
Don't forget to use the code TANA21 for 21% off your first purchase from BrainMD (make sure you have an account and are signed in to use this offer).