It's that time of year again. Every year, when the kids go back to school, I get a flood of requests for ideas for healthy school lunches and snacks. It's no wonder. Good nutrition is critical for the development of your child's brain and their ability to focus, learn, and perform in the classroom.
This year, I want to ask you to show me what's in your Junior Brain Warrior's lunch bag. Post a photo in the comments section and let me know which healthy foods your kids love.
Want some suggestions? Even though Chloe is homeschooled, I spent many years making lunches for her. In general, I stick with the following Brain Warrior-approved formula:
• A small portion of protein: Protein helps kids think clearly and learn. Amino acids in the proteins kids eat are synthesized into neurotransmitters, such as serotonin, which plays a role in balancing moods. A study in Behavioral and Brain Functions found that chronic protein energy malnutrition results in poorer test scores and reduced cognitive function.
Warrior-approved suggestions:
Grilled chicken breast
Hard-boiled eggs
Wild salmon (smoked or canned)
Wild shrimp (pre-cooked)
Grass-fed jerky (nitrate-free)
Home made protein bars (*see recipe below)
• Lots of complex carbs: Vitamins and minerals are essential for brain development and cognitive function so focus mainly on nutrient-dense veggies and fruits with a few other healthy carbs.
Warrior-approved suggestions:
Chopped veggies (broccoli, cauliflower, peppers, cucumbers, carrots, zucchini)
Organic, low-glycemic fruits (berries, apples, cherries)
Hummus
• A dab of healthy fat: Did you know that the human brain is comprised of about 60 percent fat? Dietary fatty acids play a critical role in neurological development and are essential for ongoing optimal cognitive function.
Warrior-approved suggestions:
Almonds or walnuts
Sunflower or pumpkin seeds
Hummus
Guacamole
Coconut wraps (to replace bread)
Dark chocolate (sugar-free, dairy-free)
Nut butter
Homemade trail mix
Coconut butter
• A healthy dessert: Brain healthy living is about abundance, not deprivation, so give your child a healthy dessert.
Warrior-approved suggestions from The Brain Warrior's Way Cookbook:
Chia Protein Pudding
Double Chocolate Mini Muffins
Fudgy Brownies
You can find many nutrient-dense, kid-friendly recipes in The Brain Warrior's Way Cookbook. Here's one your kids will love: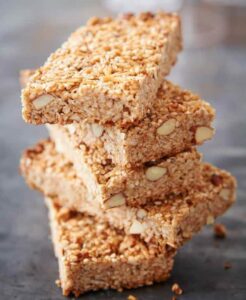 Ingredients
1 1/4 cup sesame seeds
3/4 cup shredded coconut unsweetened
1/4 cup raw almonds chopped
1/4 cup almond butter
2 tablespoons raw honey
1/2 teaspoon pure vanilla extract
1/4 teaspoon salt
coconut oil nonstick cooking spray
• Preheat oven to 350 degrees F.
• Combine all ingredients until well mixed, except cooking spray.
• Line an 8 x 8-inch square pan with parchment paper, so the paper comes above the sides of the pan. Spray the parchment with coconut oil spray.
• Spray your hands with the coconut oil spray and push the seeds
mixture evenly into the pan, flattening the top.
• Bake for 25 minutes.
• Let cool completely, then lift out of the pan and cut into 16 bars. Keep
in an airtight container.
Makes 16
NOTE: Bars will keep for about a week in an airtight container in
the refrigerator. To preserve longer, store in the freezer.