This recipe requires marinating the turkey overnight prior to cooking. This makes enough marinade for a large turkey. You may not need to use it all for smaller birds. I don't add stuffing to the turkey when cooking because it increases the cooking time too much. You certainly can, but plan to put your turkey in the oven very early. Nutritional information varies with each part of the turkey. Skinless is recommended for lower calories and lower fat content.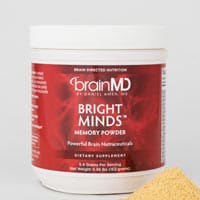 Bright Minds Memory Powder
Our most advanced memory-directed supplement formula that you can drink! Just one glass daily is all it takes to fuel your brain with crucial vitamins and minerals to help you feel energized, focused, and mentally sharp all day long. Get 21% OFF with coupon code TANA21 at checkout.