Decorate with Coconut Milk Whipped Cream Frosting. Monk fruit powder is sold in a few different forms, generally combined with ingredients like dextrose which is not good for us (a corn derivative). It can be found combined with erythritol which may be ok, but can be hard on a sensitive tummy. Pure monk fruit is VERY sweet on the taste buds, so a little goes a long way. Start with 1 tsp and add more as needed! Variations: Substitute strawberries with your favorite fruit like blueberries, peaches, raspberries, or cherries. Always use organic, of course!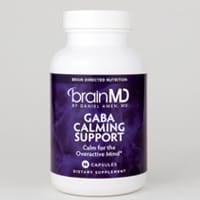 GABA Calming Support
Keep calm and collected through hectic and stressful days with this relaxing supplement, and even when anxious thoughts make it difficult to fall asleep. Get 21% OFF with coupon code TANA21 at checkout.