Be sure you use a firm "no-stir" brand of almond butter or seed butter. Most other nut butters are oily and separate. If it is too oily, it will bleed through the chocolate and cause the cups to fall apart. Also, keeping the cups small will make them easier to work with.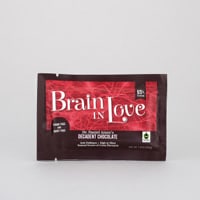 Brain in Love Chocolate (Case) – 24 Bars
You can now finally enjoy brain-healthy chocolate with these sugar-free, gluten-free, dairy-free, cholesterol-free, and non-GMO bars.
Check out these variations, plus Brain Warrior tips.


Try my Chocolate Cashew Energy Balls.