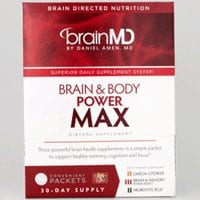 Brain & Body Power Max
Recommended for those who are interested in a truly powerful dietary supplement for their brains. It provides your brain and the rest of your body with amino acids, vitamins, minerals, botanical extracts and neuro-nutrients – but at advanced levels. Get 21% OFF with coupon code TANA21 at checkout.
Gut Bacteria: What You Need To Know ... Listen now on The Brain Warrior's Way Podcast.