HEALTH BENEFITS Cauliflower: Excellent for flushing toxins, Anti-Inflammatory, Balances Hormones. Almonds: Balance blood sugar, provide magnesium, antioxidants, fiber, healthy fats. Turkey: Lean protein, immunity and serotonin booster, hormone balance. Veggies & Peppers: Vitamins & minerals, antioxidants, anti-Inflammatory, immunity boosters. Basil: Disease Fighting Antioxidants, helps prevent cancer, protects blood vessels & liver. Garlic: Super immunity booster, blood sugar regulator, anti-inflammatory, anti-oxidant.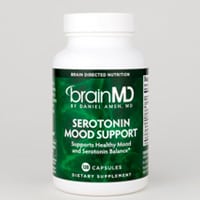 Serotonin Mood Support
Calm your mind, boost your mood, and help moderate your appetite. Don't let sadness, irritability and negative thoughts ruin your day & your sleep. Get 21% OFF with coupon code TANA21 at checkout.