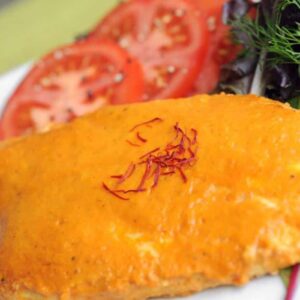 Nutrition Facts
Tomato Curry Chicken with Saffron
Amount per Serving
% Daily Value*
* Percent Daily Values are based on a 2000 calorie diet.
Ingredients:
2

tablespoons

no-salt-added vegetable broth or 1 tablespoon macadamia nut oil

for sautéing

1

small

onion

chopped

1

large

tomato or one 14oz jar of low-sodium diced tomatoes

diced

4

garlic cloves

minced

1/2

teaspoon

garam masala spice

1/2

teaspoon

mild yellow curry powder

1/2

teaspoon

presoaked saffron threads or 1/4 teaspoon dried saffron powder

(optional)

1/4

teaspoon

sea salt

(optional)

1

cup

light coconut milk

8

chicken breast

boneless, free-range, antiobiotic-free, hormone-free

1/2

cup

raw shaved almonds
Directions:
Preparation For Marinade:
Heat vegetable broth in a saucepan over medium heat. Sauté onions and tomato for 2 to 3 minutes.

Add garlic for 1 minute. Reduce heat and simmer for 5 minutes, stirring occasionally.

Add some more vegetable broth if necessary, so mixture doesn't become dry. Add masala seasoning, curry, saffron, and sea salt (if desired). Simmer for 10 minutes more. Remove from heat and cool for several minutes.

Pour mixture into a blender bowl and puree on medium until smooth and creamy.

Return mixture to saucepan and add coconut milk. Bring to a mild boil, then reduce heat to a simmer for 5 minutes. Remove from heat.

While marinade is cooling, lightly pound chicken breasts with a meat mallet.

When marinade cools, place in a bowl and add chicken to sauce. Cover and refrigerate for at least 2 hours, up to 24 hours.
Preparation For Cooking:
After marinating chicken, preheat oven to 350° F.

Place chicken in baking dish with marinade. Be sure dish is large enough so chicken isn't crowded together. Cook for 15 minutes on each side or until cooked through.

Place chicken on serving platter and sprinkle with almonds.
Notes:
Saffron is very expensive, but it gives a wonderful flavor and is considered a brain healthy spice. If using saffron threads, soak them in a couple of tablespoons of hot water for at least 15 minutes prior to use. Mash the threads with the back of a spoon. If you have time, soak the threads for several hours and do not mash them. This recipe is best if the chicken is marinated for a minimum of 2 hours, up to 24 hours.
___________________________
Do you find yourself super tired at night, but unable to go to sleep? We have incredible, all natural sleeping supplements that I would not be able to live without.
You can find those supplements

here

.
Don't forget to use the code TANA21 for 21% off your first purchase from BrainMD (make sure you have an account and are signed in to use this offer).