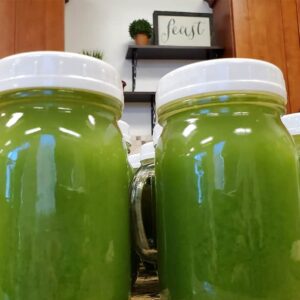 Nutrition Facts
Tana's Green Juice
Amount per Serving
% Daily Value*
* Percent Daily Values are based on a 2000 calorie diet.
Ingredients:
8

ribs

celery

organic stalks (celery often comes in "stalks", the ribs are the individual pieces in the stalk)

1/2

green apple

organic

1/2

cup

spinach

organic

2

leaves

lacinato kale

organic

1

leaf

purple kale

organic

1

cup

water

only if you aren't using a juicer
Notes:
Entry-level juicers with cold press retail for around $149.00. Look for one like this with a 3-year warranty. An important tip for juicing is to purchase organic produce for your fresh juices. Pesticides on conventional produce can create brain fog and lead to other health challenges so we recommend that when juicing to be sure to invest in healthy organic raw produce. Buying organic produce for juicing is far cheaper than purchasing your green drink at the store. If you juice at home the cost for a 16oz organic juice is roughly $2.50 a serving!? Think of adding fresh green juice to your meal plan as a way of increasing your vitamin and mineral support.
___________________________
If you are looking for a quick and easy way to get greens into your diet, BrainMD has an incredible product called Neuro Greens Superfood powder.
You can find these greens here.
Don't forget to use the code TANA21 for 21% off your first purchase from BrainMD (make sure you have an account and are signed in to use this offer).