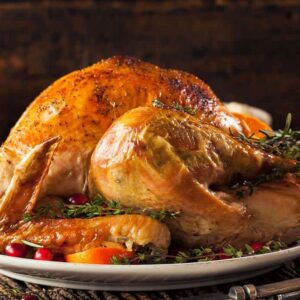 Nutrition Facts
Tana's Marinated Turkey
Amount per Serving
% Daily Value*
* Percent Daily Values are based on a 2000 calorie diet.
Ingredients:
MEAT:
1

12-pound

turkey

free-range, hormone-free, antibiotic-free
MARINADE:
1/2

cup

extra-virgin olive oil

1/4

cup

fresh lemon juice

2

tablespoons

garlic

minced

2

tablespoons

fresh rosemary

finely chopped

2

tablespoons

fresh thyme

finely chopped

1

tablespoon

sea salt

or to taste (reduce amount for low-sodium diet)

1

tablespoon

pepper

or to taste
Directions:
Roast Chicken Option:
To adapt this turkey recipe for roast chicken, cut ingredients in half and marinate according to the same instructions.

Preheat oven to 425 degrees F and roast for 1 1/2 hours. Keep chicken breast-side down for the first hour and turn over for the final 30 minutes.
Preparation The Day Before Cooking:
Start with a fully thawed turkey.

Remove innards from cavity (set aside for stuffing if desired) and rinse turkey well. Pat dry with paper towels.

"Deglove" the skin from the turkey, being careful not to remove the skin from the turkey. You just want to separate the skin from the meat. Try not to puncture the skin. The skin will remain attached at the legs' attachment points.

Mix marinade well with a whisk prior to marinating turkey.

Evenly apply marinade around turkey meat, under the skin with clean hands (always being careful to handle ALL meat with clean hands and not touch anything else prior to washing). Be sure to apply a thick coat of marinade.

Apply a final, thin coat of marinade to the outside of turkey, covering the skin.

Use the remaining marinade to apply a thin coat to the inside cavity. If you don't have enough left, you may choose to use sea salt with a little olive oil.

Cover turkey and refrigerate overnight.
Preparation for Cooking Day:
Preheat oven to 400 degrees F.

Place turkey breast-side down (for the most moist breast meat) in a roasting pan or directly on the lower rack above a roasting pan.

Cooking time varies, but a general rule is about 15 minutes per pound.

After 30 minutes, reduce cooking temperature to 350 degrees F for the next 2 hours, then reduce it again to 250 degrees F for the remaining time.

Use a baster to retrieve juices from the bottom of the pan and baste turkey every 30 minutes or so. If there are not enough drippings you may use a little raw, organic melted butter mixed with chicken broth.

Use a meat thermometer to ensure meat is fully cooked. The white meat should have a temperature of about 165 degrees F.

For the last 20 minutes of cooking time, turn turkey over and turn the temperature up to 300 degrees F. This will brown the skin of the breast.
Notes:
This recipe requires marinating the turkey overnight prior to cooking. This makes enough marinade for a large turkey. You may not need to use it all for smaller birds. I don't add stuffing to the turkey when cooking because it increases the cooking time too much. You certainly can, but plan to put your turkey in the oven very early. Nutritional information varies with each part of the turkey. Skinless is recommended for lower calories and lower fat content.
___________________________
If you are feeling that you need a little support with making better choices when hunger strikes, you should try our Craving Control supplements. Anyone who has ever tried to make better choices knows all too well how cravings can sabotage the best intentions. Craving Control contains all-natural ingredients that help to calm the craving centers in our brain, balance blood sugar and promotes a positive mood.
You can find these

here

.
Don't forget to use the code TANA21 for 21% off your first purchase from BrainMD (make sure you have an account and are signed in to use this offer).