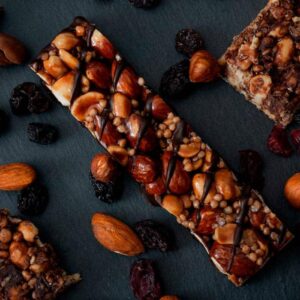 Nutrition Facts
Super-Food Protein Bars
Amount per Serving
% Daily Value*
* Percent Daily Values are based on a 2000 calorie diet.
Ingredients:
1/2

cup

raw cacao butter

1/2

cup

raw cashews

finely chopped

1/2

cup

raw almonds

finely chopped

1/4

cup

mulberries

2

tablespoons

hemp seeds

(or flax seeds)

1/2

cup

coconut butter

2

tablespoons

lucuma powder

optional

1/2

cup

pea protein*

sweetened with stevia (my favorite is shown below))

1

teaspoon

cinnamon

1/2

teaspoon

nutmeg

2

tablespoons

honey

raw, unfiltered (substitute for agave nectar to create a vegan recipe)

1/4

cup

goji berries

1

tablespoon

maca root powder

(optional)

2

tablespoons

raw cacoa powder or nibs

(optional)
Directions:
Melt the cacao butter in a small saucepan over low heat.

In a food processor, combine half of the cashews and half of the almonds, all of the mulberries, hemp seeds, coconut butter, lucuma powder, protein powder*, cinnamon, and nutmeg.

Remove cacao butter from heat and add honey to the saucepan.

Slowly pulse nuts and powder mixture in food processor while adding the melted cacao butter and honey in a steady stream. The mixture will form a dough-like texture.

Remove dough from processor and place in a bowl. Add remaining nuts, goji berries, and cacao nibs. Dough should be very thick. However, if it is too thick to mix, add 1 tablespoon of water at a time until the mixture combines, but remains very thick.

Press dough into a 13x9-inch baking dish and refrigerate for at least 1 hour.

Cut into bars.

Note: For chocolate protein bars, either use chocolate protein powder* or add 2 tablespoons of cacao powder in step 5.
Notes:
A protein bar that's incredibly healthy, easy to make, and provides the energy we demand as Brain Warriors.
___________________________
Adding protein to your diet is essential to help your body repair cells and make new ones. We have an incredible line of chocolate and vanilla protein powder to add to your morning shake, waffles or water! Our protein powder is sugar free, plant based, and it supports mental focus, muscle energy, exercise and stress recovery.
You can find our line of protein powder

here

.
Don't forget to use the code TANA21 for 21% off your first purchase from BrainMD (make sure you have an account and are signed in to use this offer).