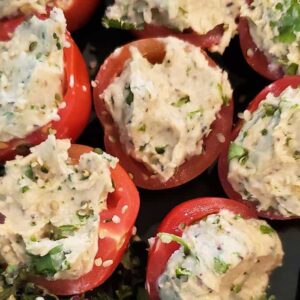 Nutrition Facts
Stuffed Tomato with Tahini Cheese
Amount per Serving
% Daily Value*
* Percent Daily Values are based on a 2000 calorie diet.
Yield:
6
(makes 12 halves)
Ingredients:
For the outside:
6

Campari tomato

(Roma tomato may also be used)
For the filling:
1

cup

natural tahini paste

1/2

cup

lemon juice

(or lime juice)

1/2

cup

cilantro leaves

1/2

cup

green onions

1

teaspoon

sea salt
Directions:
In a mid-sized mixing bowl combine all filling ingredients and mix together with a large fork until well combined. If you have a food processor you can also process this for about 20 seconds with the s-blade attachment in place. If you plan to make a double or triple batch I recommend to use a food processor.

Cut each tomato in half lengthwise and lay out on a cutting board.

Scoop out the seeds and flesh from the inside of the tomato (these are great as a sauce ingredient for fresh sauces later in the week).

Fill each tomato half with 1 tbsp of the mix.

Garnish with left over cilantro and green onion as desired.

Refrigerate for up to 5 days to enjoy throughout the week. The filling will save for up to 10 days in the refrigerator.

Pro Chef Tip: The filling for this dish makes a lovely, quick and fresh salad dressing when whisked with additional citrus juice!
Notes:
Stuffed tomatoes make a really simple portable meal plus they are fresh and flavorful. This recipe features a "tahini cheese" which is rich in flavor and also iron, calcium and B Vitamins. The filling can be used in multiple dishes throughout the week and is especially nice as a dip on a crudites snack tray or as a dip for crackers. 
All of the ingredients in the filling work to support your body in growing healthy hair, skin and nails so this could be considered a quick and easy "beauty bite"! The healthy fats will power your focus and clarity throughout the day and because these are so simple to travel with you can enjoy as a simple power-up mid-afternoon even when you are on the run.
___________________________
If you are unsure where to start with taking supplements, we have our "Brain and Body Power" packets for the easiest way to get your daily mind and body essentials. Parceled into convenient packets including a brain optimizing multi-vitamin-mineral, and pure omega-3 fish oil capsules.
You can find this

here

.
Don't forget to use the code TANA21 for 21% off your first purchase from BrainMD (make sure you have an account and are signed in to use this offer).