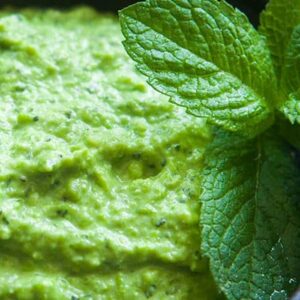 Nutrition Facts
Split Pea Hummus
Amount per Serving
% Daily Value*
* Percent Daily Values are based on a 2000 calorie diet.
Ingredients:
1

cup

dry split peas

2 1/2

cups

purified water

1

bay leaf

2

tablespoons

olive oil

1

garlic clove

minced

1

tablespoon

fresh lemon juice

1

tablespoons

tahini paste

sea salt

optional to taste
Directions:
Place split peas, water, and bay leaf in a medium pan. Bring to a boil. Cover, reduce the heat, and simmer for 40 minutes or until the peas are tender and liquid is absorbed, stirring occasionally. Remove bay leaf.

In a food processor place cooked peas, olive oil, garlic, and tahini. Process until well blended.

Add lemon juice and salt.  Process until smooth and creamy.
Notes:
This is a fabulous-tasting alternative to regular hummus, which is made with garbanzo beans. Raw veggies and hummus are one of my favorite snacks, but I prefer not to overindulge with too many legumes, as they can irritate the intestinal lining. Peas are a starchy vegetable and do not have the same irritating effect.
___________________________
If you are looking for a quick and easy way to get greens into your diet, BrainMD has an incredible product called Neuro Greens Superfood powder. Neuro Greens was developed from the latest scientific research on superfoods, which are foods especially rich with nutrients and other substances beneficial to human health. This formula features a diversity of superfoods proven to benefit the brain, immune system, and entire body.
You can find these greens

here

.
Don't forget to use the code TANA21 for 21% off your first purchase from BrainMD (make sure you have an account and are signed in to use this offer).