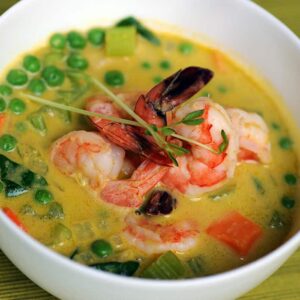 Nutrition Facts
Shrimp Chowder
Amount per Serving
% Daily Value*
* Percent Daily Values are based on a 2000 calorie diet.
Ingredients:
2

teaspoons

macadamia-nut oil or coconut oil

4

small

sweet potatoes

diced

1

medium

yellow onion

diced

8

celery stalks

chopped

3

carrots

chopped

1

14oz can

coconut milk

2

cups

unsweetened almond milk

1/2

teaspoon

Thai green curry paste

1/2

teaspoon

vanilla extract

1

pound

fresh shrimp

deveined and peeled (you may choose to remove tails)

1

cup

fresh or canned peas

1

cup

fresh spinach

1/2

teaspoon

pepper

1

teaspoon

sea salt

(optional)
Directions:
Heat oil in a large skillet over medium-high heat. Sauté potatoes, onion, celery, and carrots briefly, but do not overcook, about 5 minutes. Add coconut milk, almond milk, green curry paste, and vanilla. Mix well. Turn heat down to simmer.

Add shrimp, peas, spinach and pepper to the skillet and cook for about 3-4 minutes or until shrimp are pink and no longer translucent. Do not overcook or shrimp will become tough.

Transfer one-third of entire soup mixture to blender to puree. Transfer pureed mixture back to soup pot and mix well. You may skip this step to save time or if you prefer a thinner soup base. However, this step makes the soup more like chowder.

Add sea salt, to taste. Ladle chowder into bowls and serve hot.
Notes:
This is my daughter Chloe's favorite!
___________________________
Check out our products of Omega 3's here.
Most people don't get an adequate amount of Omega 3's in their diet and that is devastating for your heart and overall health. My favorite is our Omega-3 power squeeze, I love putting it into my shakes every morning!
Don't forget to use the code TANA21 for 21% off your first purchase from BrainMD (make sure you have an account and are signed in to use this offer).