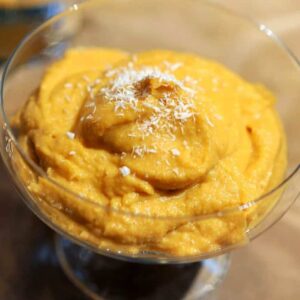 Nutrition Facts
Sensible Sweet Potato Mash
Amount per Serving
% Daily Value*
* Percent Daily Values are based on a 2000 calorie diet.
Ingredients:
2

sweet potatoes

peeled and diced

1/2

cup

coconut milk

1/4

teaspoon

nutmeg

1/2

teaspoon

cinnamon

1

teaspoon

erythritol for sweeter taste

(optional - not really necessary)
Directions:
Boil sweet potatoes in a large pot of water until tender, 20 minutes or so.

Drain sweet potatoes and transfer to large bowl or food processor.

Blend sweet potatoes with coconut milk, nutmeg and cinnamon (add erythritol if desired).

Blend until potatoes are desired consistency. Serve warm.
Notes:
People often ask why sweet potatoes are so healthy if white potatoes are not. Did you know that sweet potatoes are not really related to potatoes? They are related to the morning glory flower. Unlike white potatoes, they raise blood sugar slowly. Sweet potatoes are rich in beta carotene, vitamin A, vitamin C and many minerals. An organic sweet potato with the skin on contains more fiber than a bowl of oatmeal! These tasty root veggies are a favorite in the Amen household.
___________________________
Did you know that most people don't get the proper amount of Vitamin D3? Especially in the winter, this is a vitamin that the body readily converts to a hormone that is important for the brain, heart and circulation, immunity, bone, muscle, lung, joints, kidneys, and overall vitality. I take this every single day!
Click

here

to read more about our BrainMD Vitamin D3 5000 and add it to your cart today!
Don't forget to use the code TANA21 for 21% off your first purchase from BrainMD (make sure you have an account and are signed in to use this offer).