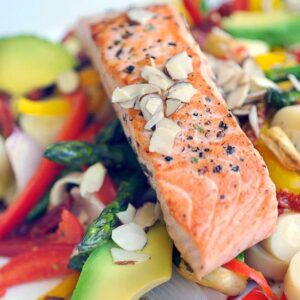 Nutrition Facts
Roasted Vegetable Salad
Amount per Serving
% Daily Value*
* Percent Daily Values are based on a 2000 calorie diet.
Ingredients:
2

tablespoons

macadamia nut oil

1/2

teaspoon

sea salt

(optional)

1/2

teaspoon

pepper

2

red bell peppers

seeded and sliced thin in strips

2

yellow bell peppers

seeded and sliced thin in strips

1/2

red onion

sliced

2

cups

asparagus tips

1

pound

salmon

seared, cut into 1" cubes (see my recipe in "Live Longer with the Doctor's Wife Cookbook"

1

cup

jicama

diced

1

cup

Sun-dried tomatoes

sliced

1

cup

hearts of palm

1

cup

artichoke hearts

diced (optional)

1/2

cup

extra-virgin olive oil

2

tablespoons

balsamic vinegar

1

tablespoon

red wine vinegar

1

tablespoon

gluten-free Dijon mustard

1

garlic clove

minced

1

teaspoon

raw, unfiltered honey

(optional)

1/2

avocado

diced

1/4

cup

raw almonds

shaved
Directions:
Preheat oven to 375°F.

Lightly oil a large cookie sheet with a couple teaspoons of the oil. Spread peppers, onions, and asparagus on cookie sheet and brush with remaining oil on both sides. Sprinkle with sea salt and pepper.

Bake for 30–40 minutes or until vegetables are tender. Turn vegetables halfway through cooking time, after 15 to 20 minutes. Remove from oven and allow to cool for at least 15 minutes.

Meanwhile, prepare salmon (or leftover meat).

In a large salad bowl, mix jicama, tomatoes, hearts of palm and artichoke hearts, if using. Set aside.

In a small bowl, combine olive oil, balsamic vinegar, red wine vinegar, mustard, garlic, and honey, if desired. Whisk until ingredients blend. Refrigerate until ready to use.

Combine all vegetables in a salad bowl. Add half of dressing and toss well. Add more dressing and toss. Continue adding dressing and tossing until salad is lightly coated with dressing, but not dripping.

Serve salad on plates and top with salmon.

Sprinkle avocado and almonds over the top.
Notes:
You can also top this salad with chicken or steak or leftover meat.
___________________________
If you are looking for a quick and easy way to get greens into your diet, BrainMD has an incredible product called Neuro Greens Superfood powder. Neuro Greens was developed from the latest scientific research on superfoods, which are foods especially rich with nutrients and other substances beneficial to human health. This formula features a diversity of superfoods proven to benefit the brain, immune system, and entire body.
You can find these greens

here

.
Don't forget to use the code TANA21 for 21% off your first purchase from BrainMD (make sure you have an account and are signed in to use this offer).