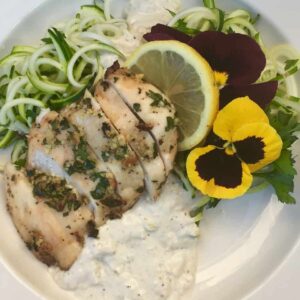 Nutrition Facts
Roasted Chicken & Zucchini With Cashew Cream Alfredo
Amount per Serving
% Daily Value*
* Percent Daily Values are based on a 2000 calorie diet.
Ingredients:
1/2

cup

cashews

raw, soaked

8

oz

chicken breast

roasted, organic (or grass fed steak or grilled shrimp or salmon or tofu)

6

cups

zucchini

spiralized

1

teaspoon

macadamia nut oil

1/4

cup

onion

minced

1

tablespoon

garlic

fresh, minced

zest of 1 lemon

(optional)

dash

nutmeg

(optional)

dash

parsley

fresh, minced (optional)

salt & pepper

(optional)
Directions:
Soak cashews at least 8 hours. Rinse, put into a high powered blender, add 1 cup of cold water, and blend until smooth and creamy (thin milk consistency).

Either prepare roasted chicken breast, or buy a whole ORGANIC roasted chicken.

Make zucchini noodles on a spiralizer, or buy some ORGANIC zucchini noodles.

In a small sauce pan, over medium heat, sauté the macadamia nut oil and onion about 3 minutes. Add garlic and cook another minute. Add cashew cream and cook just to a slightly thick cream consistency (cashew cream can seize up easily, simply add water if it's a little too thick). Remove from heat.

Briefly in a heated large skillet or sauté pan, heat the zucchini noodles. You want them to maintain their texture, so only heat a minute or so!

Plate your noodles
Notes:
___________________________
If you are looking for a quick and easy way to get greens into your diet, BrainMD has an incredible product called Neuro Greens Superfood powder. Neuro Greens was developed from the latest scientific research on superfoods, which are foods especially rich with nutrients and other substances beneficial to human health. This formula features a diversity of superfoods proven to benefit the brain, immune system, and entire body.
You can find these greens

here

.
Don't forget to use the code TANA21 for 21% off your first purchase from BrainMD (make sure you have an account and are signed in to use this offer).